January 10th, 2017 by davi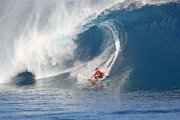 Efforts Led by Asia-Based AID Partners, LLC.
North Shore Oahu, Hawaii – (January 10th, 2017) – The Waterman League Group, known for its professional paddlesurfing racing and surfing league, today is pleased to announce it has closed a Series A round of financing. The efforts were led by private equity firm AID Partners (AID), LLC and Darren Shaw, a Hong Kong based co-investor: both entities will join the Company's board of directors. The proceeds of this investment will be used to expand the Waterman League's Paddlesurf World Tour events established in 2009.

"We have passionately endeavoured to build the Waterman League with integrity and authenticity and I am extremely proud to have attracted investors of this calibre and to begin working with our new partners to strengthen and expand our business," said Tristan Boxford, Chief Executive Officer of the Waterman League. "Paddlesurfing is one of the world's fastest-growing participatory sports and we feel that the APP World Tour will continue to appeal to a rapidly growing number of fans and professional athletes while embracing the mass participation component of our events.
"We are particularly keen to help grow the sport of paddlesurfing in Asia," said Kelvin Wu, Chairman of AID. "We also see expansion of the event formats and increasing digital media coverage of the APP World Tour as having enormous potential."
"I have been impressed by the Waterman League and what Tristan has achieved with limited resources," noted Darren Shaw. "He has created an exciting competitive platform and attracted a dynamic group of young athletes for this relatively new sport, highlighting the timely attributes of adopting healthy pursuits, being out in the elements, and bringing awareness to our waterways and oceans. I feel every ingredient for success is in place."
In conjunction with this new investment, the Waterman League has established the Association of Paddlesurf Professionals (APP) and aligned the two disciplines of paddlesurfing under a new "APP World Tour", which will deliver 8 events in 2017 in Oahu (Hawaii), Maui (Hawaii), Tokyo (Japan), Scharbeutz (Germany), New York (NY), San Francisco (CA), Hainan (China) and the Canary Islands (Spain).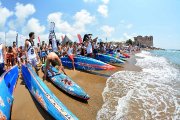 ###
About AID Partners LLC
AID is a leading private equity firm based in Asia with a global prospective. An acronym of its strengths, A – advising, I – investing, and D – development, the firm has backed a strategic portfolio of companies that bridge many of its businesses from one part of the world to the other. AID's investment focus is primarily in the media, technology and lifestyle sectors. Its portfolio companies include Legendry Pictures, Golden Harvest Entertainment, Freedom Network and Zoox Inc.
About Waterman League Group
The Waterman League Group is an event management and media production company headquartered in Hawaii focused on developing multi-disciplined water sports. The term 'waterman' refers to versatile athletes who can engage in various forms of water sports at the highest level.
As founders of the World Championship Tour for Paddlesurfing (also known as Stand-Up Paddling), the Waterman League has been crowning Men's and Women's World Champions for both racing and surfing since 2010, with flagship events across the Americas, Asia, Europe and the Middle East, now branded as the APP World Tour.
The APP World Tour produces a complete inventory of programming, including live and post produced broadcasts from all its events, with distribution to over 100 countries worldwide via premier global networks such as CBS Sports and Fox Sports Australia, supported by IMG Media.
Information is available at appworldtour.com and fans can follow events @appworldtour on Facebook and Instagram.
Media Contact:
Don Williams
Williams Group Public Relations
(760) 707-4589
don@williamsgrouppr.com
Related posts