April 25th, 2008 by admin

C4 Waterman is proud to present the state-of-the-art Vortice XP stand-up paddleboard.
The hollow, carbon-fiber version of the groundbreaking Vortice board, the Vortice XP is made to be the fastest 'stock' racing paddleboard available. Brian Keaulana, Todd Bradley, and Dave Parmenter collaborated over 4 years to bring this board into reality, and their decades of cumulative experience paddling in the ocean around Hawaii has paid off. The ultralight Vortice XP is to be the foundation of a cruising class of boards, joining the ranks of C4's other incredible boards, the Holoholo , Vortice , Eleu , and Eleu XP .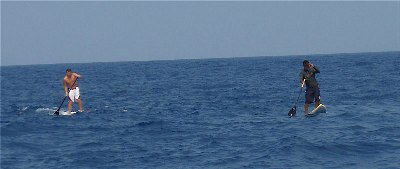 Lance Armstrong and Brian Keaulana paddling twin Vortice XPs.
The world is already abuzz with news of the new Vortice XP. Lance Armstrong couldn't wait to get his hands on one; see him paddling one with Todd Bradley and Brian Keaulana on the Kona side of the Big Island of Hawaii.
Related posts