July 28th, 2008 by admin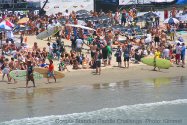 HUNTINGTON BEACH, Calif. (July 27, 2008) — In 40 minutes, Corona and Surftech put stand up paddle surfing in front of an estimated 100,000 people, taking the sport a giant leap forward in the consciousness of the surfing and non surfing public alike. The inaugural Corona Stand-up Paddle Surf Challenge took center stage on Sunday, the final day of the Honda U.S. Open of Surfing as a star studded cast of some of surfing's most notable hero's, took to the water on a selection of Surftech stand up paddleboards for a single 40 minute, winner take all heat.
Competing in the event were some of the most notable names in surfing including current WCT competitor Timmy Reyes, four-time Women's World Champion Lisa Andersen, legendary North Shore pioneer and shaper Mickey Munoz, former pro surfer and star of Endless Summer II Pat O'Connell, Hawaiian charger Kala Alexander, Australian transplant Jesse Faen, pro longboarder Rocky McKinnon and the 2008 Surftech SUP shootout winner Jeremy Portfilio.
But it was Maui's Noah Shimabukuro, riding his Surftech built 10'3" Takayama SUP, who put on a spectacular show for the crowd as well as the judges. The US Open Longboard finalist showed his comfort on the production stand up paddle board, navigating Huntington's challenging beach break conditions and finding long open faced waves to combine noserides with powerful cutbacks and weightless floaters, even shooting the legendary HB pier on one particularly long ride. The result was a combined score of 16 out of a possible 20 points to take first place. Fellow competitor McKinnon, took second, showing his home break knowledge by picking off some of the best waves in the heat and using his paddle to carve precise turns off the top. From powerful carves to new school floaters, stylish rides were had by all competitors, but it was Mickey Munoz who garnered the greatest support. Legendary among surfers for his eternal stoke, Mickey was clearly a crowd favorite, fueling the stoke of both the live and online spectators as he caught clean rides showcasing how his classic style translated perfectly into this new form of surfing.
The Corona Stand-up Paddle Surf Challenge marks the first time stand up paddle surfing has been seriously showcased in conjunction with a high profile surfing event. The constant action combined with the notoriety and diversity of the competitors made it a popular component of the Honda U.S. Open of Surfing. Look for stand up paddling to continue to gain momentum as Surftech and Corona support the sport's growth and bring new events to the market in 2009.
For more information or to view classic images from the event check out www.surftech.com.
Related posts