March 28th, 2009 by clarise

Sandwich Island Composites gives us a preview of the 2nd generation F16 which is a proven point-to-point racing board by Mark Raaphorst. Check out what's new with the new generation F16 .
The differences:
Rhino design and CNC cut (true curves, better symmetry)
More boxy rails. (dry feet)
Single concave with small hydro hull side panels (better stability)
Smaller pad (lighter weight)
Contoured deck (increase comfort and stability)
The board is even faster, planes out longer and is more stable
Future construction is autoclave.
Basically a lot of what is going on with the new F14.


The rest of the board specifications are as follows:
The Hull:
It has a lay down paddle board type nose entry for low friction displacement qualities. The mid section is flat for stability. The tail has some V for surfing qualities and we added some double concave for speed once you are on a swell and need to connect to the next trough.
The Rocker:
Growing up on Maui's North Shore, with Maliko runs as its main testing ground, we found that the board needed some nose rocker. Submerging your bow into the next swell slows you down to say the least. The mid section is fairly flat for ease of glide and the tail exit has a natural curve.
The Deck:
The bow section has a "V" to expel water in case you do poke into an upcoming swell. The deck area where you mainly stand has a slight bit of a single concave (3/8") for feet comfort. The concave is not noticeable to the naked eye unless you put a straight edge on the deck.
The Rails:
Like the lay-down paddle board concept ,we believe in soft rails in the front for displacing water. While planing, a hard edge in the tail give good water relief.
A good amount of under-tuck makes for ease of surfing once on a swell.
Full rail volume allows for plenty of buoyancy for riders up to 250 pounds.
The Pad:
F-16 comes with an integrated 1/8" (3 mm) x 11' long pad. (pad color choices are visible in our Selector Page)
The Construction:
F-16 is built with lots of carbon for stiffness. All lay up is vacuum bagged and breather and absorption plies make for a high fiber to epoxy resin ratio. Both bow and hull skins are 1 1/8" thick and have 3 strong backs (stringers) in them. Boards simply cannot sink and if it does strike a leak water can be drained out.
The Steering:
The Active Steering System (ASS) will be positioned for regular or goofy footer or upon request plumbed for duo (resale). It has a 5" adjustable insert placement for the foot paddle pivot point. (back and forward)
It comes with a spring loaded fiberglass batten so when you step back and surf, the rudder will come back to the straight position.
The rudder is a molded 9 1/4" spitfire type (straight up and down) design. It has a foil for medium speed (5 to 15 MPH) efficiency.
Cables are tension adjustable with a turn buckle in the rear.
All hardware is stainless steel and molded carbon.
Color:
We recommend a white bottom. The deck can be sprayed in most gel coat colors. Please look for sample color chip in the Selector page.
The Weight: Approximately 28 pounds.
Time frame:
It takes a $400 down payment to be placed on the production schedule.
The $400 is fully refundable up to 4 weeks prior to the start of your order.
Cost: $2500
Shipping:
Inter island pick up at the YB dock is $30
West coast by air in 5 days to your location: $250
West Coast by Matson Ocean Freight approximately. $150
East coast by air : call for a quote (cost depends on the trucking portion of the freight)
Australia by air approximately $550
Travel board bags:
Custom fitted travel bags made by Da Kine Hawaii. Cost is $275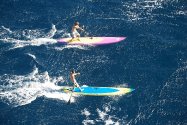 The second generation (purple) also has a higher center spine on the bow on the deck (sheds water better in case you poke)
Related posts