July 17th, 2009 by clarise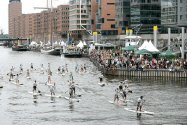 27.000 spectators at the JEVER SUP World Cup Hamburg – Hawaiian and German are winner of the professional race
Hamburg, 12th of July 2009 27.000 spectators, 143 participants, six proud winners, a lot of new infected Stand Up Paddler, an easy going surf atmosphere amidst the Hamburg HafenCity, high spirited after show party's, action on the water of the Elbe and a lot of fun – short, the JEVER SUP World Cup Hamburg 2009 was a thorough success. Thereto Matthias Neumann, CEO of the organizing agency ACT AGENCY: "We look back at three great event days, with a fabulous feedback of spectators. The actives were excited and would love to have more events in this new trend sport on such a high level. In the new city district, the HafenCity, we found a perfect location and we definitively want to come back with the JEVER SUP World Cup next year."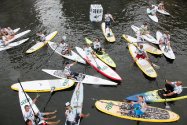 Some participants of the JEVER SUP World Cup 2009 photos by HOCH ZWEI
Athletically, this Sunday was the day of big decisions. In the sprint final of the amateurs over 2.000 meters, Marina Wagner from Hamburg and Daniel Weiß from Rostock were able to paddle at the head and left their competitors without any chances behind. Marina Wagner knows exactly what she wants to do with her price money (750, – Euro). "I always wanted to go to Hawaii, to have a look at the roots of SUP. This is where I will invest my money to." In the energy – sapping final of the professional race over ten kilometers, the Hawaiian Ekolu Kalama (54:51 minutes) and the German Sonni Hönscheid (63:04 minutes) took front rank again. The triumph in the long-distance was their second success at the JEVER SUP World Cup Hamburg already. The day before, both of them won the first place in the sprint distance (2.000 meter). Their names should better be remembered in the future of SUP.
Free pictures of the JEVER SUP World Cup Hamburg can be downloaded from the following homepage:
http://offer.hoch-zwei.net/JEVER_SUP_WORLD_CUP_3/start.html
http://offer.hoch-zwei.net/JEVER_SUP_WORLD_CUP_2/start.html
http://offer.hoch-zwei.net/JEVER_SUP_WORLD_CUP/start.html
All information and further pictures can be found under www.supworldcup.de.
Press contact:
ACT AGENCY GmbH
Anne-Katrin Löffler
Tel: (040) 41 46 41-48
presse@act-agency.com
Check the results below (click on images for full view):

Race information (click on images for full view):

Related posts