June 13th, 2010 by davi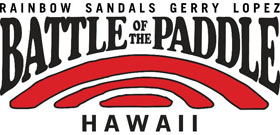 WAIKIKI WELCOMES HOME BATTLE OF THE PADDLE
KA-CHING! CALIFORNIA'S DANNY CHING CLEAN SWEEP
600 Paddlers from Around the World Enjoy
the Ultimate SUP Experience
Ching, Appleby, Moller Victorious
Official Website & Results
High resolution images and video available to media upon request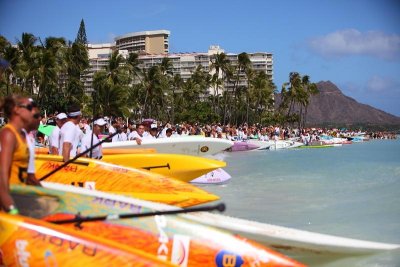 Above:Starting Line for the Elite Race.
Photo: Pat Huber/Rainbow Sandals

HONOLULU – (Sunday, June 13, 2010) — Stand-up paddling (SUP) came full circle back to its home of Waikiki, Hawaii, this weekend, surpassing every conceivable expectation with the ultimate combination of sport and lifestyle. Over 600 paddlers from around the world gathered for the inaugural Rainbow Sandals Gerry Lopez Battle of the Paddle Hawaii, presented by Quiksilver Waterman Collection, and thousands turned out to watch. When all was said and done, everyone had a story to tell.
The turquoise waters of Waikiki, and surreal backdrop of Diamond Head, were reminders of a time long ago, when the upright figure of Duke Kahanamoku riding a board first captured imaginations.
But it was Californian Danny Ching (Redondo Beach), 27, who captivated the crowd this time around, making a clean sweep of the 5-mile Elite Battle and the 10-mile Downwinder.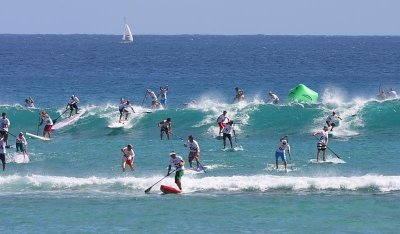 Above: Elite Race Excitement
Photo: Pat Huber/Rainbow Sandals

In Saturday's Elite race, Ching was embroiled in a 5-mile battle royale with dark horse Australian paddler Travis Grant (Gold Coast). Punctuated by 19 buoy turns and two 75-yard beach sprints, their race ended in a sprint for the shoreline that left them separated by just 13 seconds after close to an hour and a half of dueling. He then overcame Sunday morning's fatigue to go on and win the 10-mile distance race.
"I didn't expect that at all," said Ching. "I was hoping to win one of the days but luckily it panned out for me. I definitely felt fatigued (in the distance race). But once I got out into the surf I was able to build a bit of a gap. I was figuring that would hold them off at the end because if you raced (the Elite race) you were going to have a hard time making the final push the last two miles.
"Sparky's Rainbow Sandal races are the best," said Ching. "He puts up the biggest prize purse, the best competitors and the biggest event. Everything about it is amazing."
Ching crossed the Elite race line in one hour, 22 minutes and 42 seconds to take win $5,000. He completed the 10-mile downwind race in 1 hour and 26 minutes for an added $1,100.
Grant, 27, finished the Elite race in 1:22:55 for $3,500; and veteran Hawaiian paddler Aaron Napoleon, 43, was third in 1:26:30 for $2,500. Jamie Mitchell (Australia), the most dominant paddleboarder in the world, was fourth in 1:27:00.
In the women's division, San Clemente's Candice Appleby took out the Elite battle, earning $2,500 with her time of 1:35:25. Second was Australian Shakira Westdorp. In the distance race, Maui's Andrea Moller took line honors.
Beyond the world's best, paddlers who participated this weekend ranged from pint-sized, surf-savy kids, to mothers, grand-mothers, and 72-year-old Frank Perna (Malibu, CA) – the oldest competitor of the weekend.
The Battle of the Paddle also featured exhibits, booths, clinics for children, relays for families, fun races and plenty of SUP sampling. There were spirit-moving cultural ceremonies, impassioned volunteers and priceless ocean-based programs like Na Kama Kai. But beneath it all, there was the pure and simple fun that Waikiki has famously offered the world for centuries.
In some ingenious way, Gerry Lopez, Jay "Sparky" Longley, and the families of Rainbow Sandals and Quiksilver Waterman Collection tied together all the best elements of the stand-up paddle lifestyle and presented them in an exciting, easy to grasp, 21st century framework. The total prize purse for the weekend was equally stunning: $25,000.
It takes a community to raise a lifestyle: Mahalo to the SUP families of Rainbow Sandals, Quiksilver Waterman Collection, Patagonia, Maui Jim Sunglasses, Outrigger Hotels & Resorts, Kona Brewing Co., DaKine, Duke's Waikiki, and Surftech, for bringing a new dawn of SUP to Waikiki Beach.
Aloha!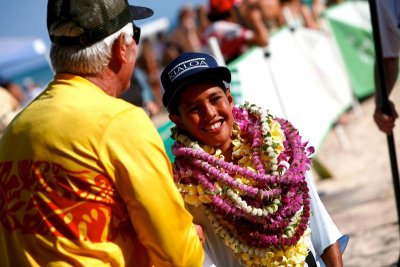 Above: This is what it's all about – Rainbow Sandals Founder Jay 'Sparky' Longley looks to the future of SUP – 12-year-old Riggs Napoleon, son of Aaron Napoleon. Photo by Chase Olivieri.

ELITE RACE – MEN'S TOP 10:
1 1 hour 22 minutes 42.3 seconds DANNY CHING (Redondo Beach, CA)
2 1:22:55.1 – TRAVIS GRANT (Queensland, Australia)
3 1:26:30.8 – AARON NAPOLEON (Waianae, HI)
4 1:27:00.6 – JAMIE MITCHELL (Queensland, Australia)
5 1:27:20.6 – BYRON KURT
6 1:27:23.1 – SCOTT GAMBLE
7 1:27:26.1 – SLATER TROUT (Maui, HI)
8 1:27:32.7 – CONNOR BAXTER (Maui, HI)
9 1:28:39.0 – MATT BECKER
10 1:28:47.4 - SEPA K. NAPOLEON
ELITE RACE – WOMEN'S TOP 5
1. 1:35:25.3 – CANDICE APPLEBY (San Clemente, CA/Honolulu, HI)
2. 1:36:35.2 – SHAKIRA WESTDORP (Queensland, Australia)
3. 1:37:51.6 – BRANDI BAKSIC (San Clemente, CA)
4. 1:41:30.2 – JENNY KALMBACH (Big Island, HI)
5. 1:41:50.9 – MORGAN HOESTEREY (Oahu, HI)
HAWAII KAI DISTANCE RACE MEN:
1st male: DANNY CHING (Redondo Beach, CA)
1st female: ANDREA MOLLER (Maui)
Please note! Complete results were NOT available at time of writing.
Check http://www.rainbowsandals.com/battleofthepaddle/HI/ for results.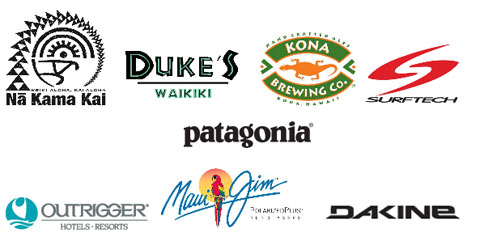 Here are some pictures of the race results taken by Evan (click to enlarge):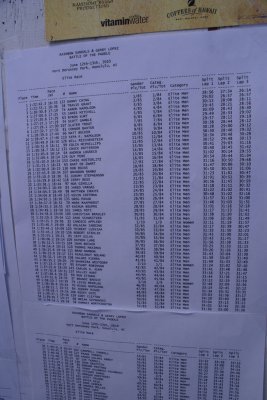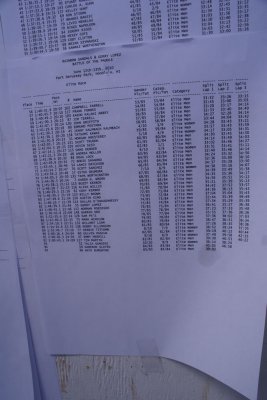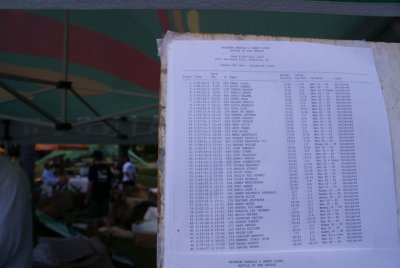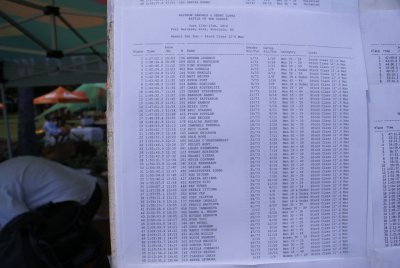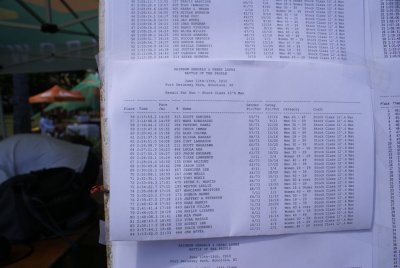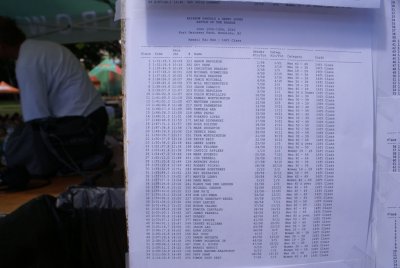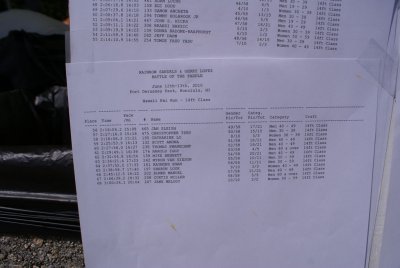 Elite Race
| | | | | | | | |
| --- | --- | --- | --- | --- | --- | --- | --- |
| Race Plc | Time | Pace Mile | Number | Fname | Lname | Cat Plc | Cat |
| 1 | 1:22:42 | 16:33 | 122 | DANNY | CHING | 1 | Elite Men |
| 2 | 1:22:55 | 16:36 | 58 | TRAVIS | GRANT | 2 | Elite Men |
| 3 | 1:26:31 | 17:19 | 74 | AARON | NAPOLEON | 3 | Elite Men |
| 4 | 1:27:01 | 17:25 | 53 | JAMIE | MITCHELL | 4 | Elite Men |
| 5 | 1:27:21 | 17:29 | 63 | BYRON | KURT | 5 | Elite Men |
| 6 | 1:27:23 | 17:29 | 34 | SCOTT | GAMBLE | 6 | Elite Men |
| 7 | 1:27:26 | 17:30 | 157 | SLATER | TROUT | 7 | Elite Men |
| 8 | 1:27:33 | 17:31 | 81 | CONNOR | BAXTER | 8 | Elite Men |
| 9 | 1:28:39 | 17:44 | 66 | MATT | BECKER | 9 | Elite Men |
| 10 | 1:28:47 | 17:46 | 110 | SEPA K. | NAPOLEON | 10 | Elite Men |
| 11 | 1:30:49 | 18:10 | 126 | WILL | REICHENSTEIN | 11 | Elite Men |
| 12 | 1:30:52 | 18:11 | 99 | COLIN | MCPHILLIPS | 12 | Elite Men |
| 13 | 1:30:59 | 18:12 | 131 | CHUCK | PATTERSON | 13 | Elite Men |
| 14 | 1:31:06 | 18:14 | 64 | ANDREW | LOGRECO | 14 | Elite Men |
| 15 | 1:31:09 | 18:14 | 124 | GUY | PERE | 15 | Elite Men |
| 16 | 1:31:10 | 18:14 | 153 | CHASE | KOSTERLITZ | 16 | Elite Men |
| 17 | 1:31:54 | 18:23 | 65 | BART | DE ZWART | 17 | Elite Men |
| 18 | 1:32:01 | 18:25 | 138 | ROB | ROJAS | 18 | Elite Men |
| 19 | 1:32:46 | 18:34 | 107 | BRANDON | RAMBO | 19 | Elite Men |
| 20 | 1:33:10 | 18:38 | 61 | JEREMY | STEPHENSON | 20 | Elite Men |
| 21 | 1:33:30 | 18:42 | 118 | JERRY | BESS | 21 | Elite Men |
| 22 | 1:33:38 | 18:44 | 97 | NOA | GINELLA | 22 | Elite Men |
| 23 | 1:34:00 | 18:49 | 83 | JARED | VARGAS | 23 | Elite Men |
| 24 | 1:34:04 | 18:49 | 98 | MATTHEW | INOUYE | 24 | Elite Men |
| 25 | 1:34:05 | 18:49 | 125 | KEVIN | COFFMAN | 25 | Elite Men |
| 26 | 1:34:05 | 18:50 | 135 | GREG | PAVAO | 26 | Elite Men |
| 27 | 1:34:18 | 18:52 | 78 | MARK | RAAPHORST | 27 | Elite Men |
| 28 | 1:34:33 | 18:55 | 67 | KAINUA | BEUPRE | 28 | Elite Men |
| 29 | 1:34:49 | 18:58 | 101 | JAMES | FOTI | 29 | Elite Men |
| 30 | 1:34:58 | 19:00 | 100 | CHRISTIAN | BRADLEY | 30 | Elite Men |
| 31 | 1:35:19 | 19:04 | 112 | ZANE | SCHWEITZER | 31 | Elite Men |
| 32 | 1:35:25 | 19:06 | 32 | CANDICE | APPLEBY | 1 | Elite Women |
| 33 | 1:35:40 | 19:09 | 82 | KOLAIAH | JARDINE | 32 | Elite Men |
| 34 | 1:35:44 | 19:09 | 120 | THIBERT | LUSSIAA | 33 | Elite Men |
| 35 | 1:35:45 | 19:10 | 156 | ROBERT | STEHLIK | 34 | Elite Men |
| 36 | 1:35:53 | 19:11 | 85 | JEFF | SILVA | 35 | Elite Men |
| 37 | 1:36:06 | 19:14 | 109 | HAYDEN | LANE | 36 | Elite Men |
| 38 | 1:36:13 | 19:15 | 104 | JOHN | BECKER | 37 | Elite Men |
| 39 | 1:36:14 | 19:15 | 119 | THOMAS | MAXIMUS | 38 | Elite Men |
| 40 | 1:36:16 | 19:16 | 111 | BRAD | RAMBON | 39 | Elite Men |
| 41 | 1:36:24 | 19:17 | 121 | KEAULANAY | NOLAND | 40 | Elite Men |
| 42 | 1:36:31 | 19:19 | 108 | KALANI | VIERRA | 41 | Elite Men |
| 43 | 1:36:35 | 19:20 | 29 | SHARKIRA | WESTDORP | 2 | Elite Women |
| 44 | 1:37:14 | 19:27 | 95 | STUART | ROBINSON | 42 | Elite Men |
| 45 | 1:37:23 | 19:29 | 143 | CARLOS A. | KUHN | 43 | Elite Men |
| 46 | 1:37:33 | 19:31 | 137 | KELLEY | HUNT | 44 | Elite Men |
| 47 | 1:37:39 | 19:32 | 69 | RON | STJOHN | 45 | Elite Men |
| 48 | 1:37:52 | 19:35 | 37 | BRANDI | BAKSIC | 3 | Elite Women |
| 49 | 1:38:11 | 19:39 | 79 | LIVIO | MENELAU | 46 | Elite Men |
| 50 | 1:38:39 | 19:44 | 70 | RIGGS | NAPOLEON | 47 | Elite Men |
| 51 | 1:39:15 | 19:52 | 84 | JEREMY | RIGGS | 48 | Elite Men |
| 52 | 1:39:26 | 19:54 | 106 | MIKEY | COTE | 49 | Elite Men |
| 53 | 1:39:37 | 19:56 | 129 | CODY | CLIFTON | 50 | Elite Men |
| 54 | 1:39:41 | 19:57 | 68 | BRIAN | SZYMANSKI | 51 | Elite Men |
| 55 | 1:39:55 | 19:59 | 56 | KAMAKI | WORTHINGTON | 52 | Elite Men |
| 56 | 1:40:32 | 20:07 | 102 | CAMPBELL | FARRELL | 53 | Elite Men |
| 57 | 1:40:46 | 20:10 | 117 | FRANK | FORBES | 54 | Elite Men |
| 58 | 1:40:49 | 20:10 | 103 | KAEOO | KALANI ABBEY | 55 | Elite Men |
| 59 | 1:41:00 | 20:13 | 87 | JIM | TERRELL | 56 | Elite Men |
| 60 | 1:41:08 | 20:14 | 130 | JOHN | GRIFFITH | 57 | Elite Men |
| 61 | 1:41:29 | 20:18 | 80 | EDMUND | PESTANA | 58 | Elite Men |
| 62 | 1:41:30 | 20:19 | 45 | JENNY KALMBAC | KALMBACH | 4 | Elite Women |
| 63 | 1:41:38 | 20:20 | 158 | TATSUMI | KAWAI | 59 | Elite Men |
| 64 | 1:41:51 | 20:23 | 51 | MORGAN | HOESTEREY | 5 | Elite Women |
| 65 | 1:42:04 | 20:25 | 151 | SCOTT | TRUDON | 60 | Elite Men |
| 66 | 1:42:04 | 20:25 | 105 | KEVIN | SEID | 61 | Elite Men |
| 67 | 1:42:14 | 20:27 | 115 | DANE | DEBOER | 62 | Elite Men |
| 68 | 1:42:21 | 20:29 | 48 | ANDREA | MOLLER | 6 | Elite Women |
| 69 | 1:42:38 | 20:32 | 88 | DOUG | LOCK | 63 | Elite Men |
| 70 | 1:42:50 | 20:34 | 72 | BODIE | SHANDRO | 64 | Elite Men |
| 71 | 1:43:45 | 20:46 | 54 | LANCE | ERICKSON | 65 | Elite Men |
| 72 | 1:43:55 | 20:47 | 76 | SCOTT | SANCHEZ | 66 | Elite Men |
| 73 | 1:43:59 | 20:48 | 17 | ESTEE | OKUMURA | 7 | Elite Women |
| 74 | 1:44:05 | 20:50 | 133 | TAPA | WORTHINGTON | 67 | Elite Men |
| 75 | 1:44:26 | 20:54 | 7 | KAREN G. | WRENN | 68 | Elite Men |
| 76 | 1:45:58 | 21:12 | 113 | BUZZY | KERBOX | 69 | Elite Men |
| 77 | 1:46:11 | 21:15 | 116 | ALIKA | WILLIS | 70 | Elite Men |
| 78 | 1:46:29 | 21:18 | 62 | KODY | KERBOX | 71 | Elite Men |
| 79 | 1:46:30 | 21:19 | 123 | BILLY | BROWN | 72 | Elite Men |
| 80 | 1:47:50 | 21:34 | 150 | AUSTIN | KINO | 73 | Elite Men |
| 81 | 1:48:11 | 21:39 | 114 | DALLAS | O'SHAUGHNESSY | 74 | Elite Men |
| 82 | 1:48:39 | 21:44 | 55 | GERRY | LOPEZ | 75 | Elite Men |
| 83 | 1:48:45 | 21:46 | 152 | NORMAN | ROEDIGER | 76 | Elite Men |
| 84 | 1:50:43 | 22:09 | 148 | DARREN | ORR | 77 | Elite Men |
| 85 | 1:51:55 | 22:24 | 128 | SAM | PA'E | 78 | Elite Men |
| 86 | 1:52:40 | 22:33 | 75 | MARK | WINSLOW | 79 | Elite Men |
| 87 | 1:54:10 | 22:51 | 132 | WILLMOT | LIAM | 80 | Elite Men |
| 88 | 1:54:35 | 22:55 | 136 | ROBBY | ELLINGSON | 81 | Elite Men |
| 89 | 1:55:50 | 23:10 | 77 | HERBIE | TITCOMB | 8 | Elite Women |
| 90 | 2:00:16 | 24:04:00 | 60 | KELVIN | PASCUA | 82 | Elite Men |
| 91 | 2:00:20 | 24:05:00 | 47 | EMMY | MERRILL | 9 | Elite Women |
| 92 | 2:00:43 | 24:09:00 | 127 | TIM | MARTIN | 83 | Elite Men |
| 93 | 2:18:12 | 27:39:00 | 96 | NATE | BURGOYNE | 84 | Elite Men |

Hawaii Kai Run – 14ft Class
| | | | | | | | |
| --- | --- | --- | --- | --- | --- | --- | --- |
| Race Plc | Time | Pace Mile | Number | Fname | Lname | Cat Plc | Cat |
| 1 | 1:31:18 | 10:09 | 321 | AARON | NAPOLEON | 1 | Men 40 – 49 |
| 2 | 1:32:16 | 10:16 | 382 | GUY | PERE | 1 | Men 30 – 39 |
| 3 | 1:35:47 | 10:39 | 143 | CHRISTIAN | BRADLEY | 1 | Men 19 – 29 |
| 4 | 1:37:36 | 10:51 | 228 | MICHAEL | SCHWEIGER | 2 | Men 30 – 39 |
| 5 | 1:37:42 | 10:52 | 470 | KAINOA | BEAUPRE | 3 | Men 30 – 39 |
| 6 | 1:38:27 | 10:57 | 384 | JAMIE | MITCHELL | 4 | Men 30 – 39 |
| 7 | 1:38:43 | 10:59 | 375 | WILL | REICHENSTEIN | 2 | Men 19 – 29 |
| 8 | 1:38:55 | 11:00 | 333 | JASON | IGNACIO | 2 | Men 40 – 49 |
| 9 | 1:39:57 | 11:07 | 323 | RIGGS | NAPOLEON | 1 | Men 18 & Under |
| 10 | 1:40:03 | 11:07 | 424 | COLIN | MCPHILLIPS | 5 | Men 30 – 39 |
| 11 | 1:41:50 | 11:19 | 250 | KAMAKI | WORTHINGTON | 6 | Men 30 – 39 |
| 12 | 1:41:51 | 11:20 | 437 | MATTHEW | INOUYE | 3 | Men 19 – 29 |
| 13 | 1:46:05 | 11:48 | 217 | DAVE | PARMENTER | 3 | Men 40 – 49 |
| 14 | 1:46:17 | 11:49 | 485 | KAMUELA | AEA | 1 | Men 50 – 59 |
| 15 | 1:46:26 | 11:50 | 218 | GREG | PAVAO | 4 | Men 40 – 49 |
| 16 | 1:46:31 | 11:51 | 198 | ROBERTO | LOPES | 7 | Men 30 – 39 |
| 17 | 1:46:49 | 11:53 | 171 | BRIAN | SZYMANSKI | 5 | Men 40 – 49 |
| 18 | 1:47:31 | 11:57 | 186 | ROSS | KOIZUMI | 2 | Men 50 – 59 |
| 19 | 1:47:39 | 11:58 | 174 | MARK | HOUGHTON | 3 | Men 50 – 59 |
| 20 | 1:48:30 | 12:04 | 216 | DENNIS | PANG | 4 | Men 50 – 59 |
| 21 | 1:50:30 | 12:17 | 251 | TAPA | WORTHINGTON | 8 | Men 30 – 39 |
| 22 | 1:50:38 | 12:18 | 230 | KEVIN | SEID | 6 | Men 40 – 49 |
| 23 | 1:50:38 | 12:18 | 442 | GERRY | LOPEZ | 1 | Men 60 & over |
| 24 | 1:52:58 | 12:34 | 168 | BRAD | FELDMAN | 5 | Men 50 – 59 |
| 25 | 1:53:41 | 12:38 | 399 | CANDICE | APPLEBY | 1 | Women 19 – 29 |
| 26 | 1:54:47 | 12:46 | 164 | MARK | EUGENIO | 7 | Men 40 – 49 |
| 27 | 1:55:12 | 12:48 | 451 | JIM | TERRELL | 8 | Men 40 – 49 |
| 28 | 1:55:16 | 12:49 | 226 | ANTHONY | ROSSI | 9 | Men 30 – 39 |
| 29 | 1:55:19 | 12:49 | 482 | ROBERT | PICAYO | 10 | Men 30 – 39 |
| 30 | 1:55:33 | 12:51 | 283 | MORGAN | HOESTEREY | 2 | Women 19 – 29 |
| 31 | 1:55:44 | 12:52 | 232 | RAY | SHIRAISHI | 6 | Men 50 – 59 |
| 32 | 1:57:13 | 13:02 | 471 | MARTIN | LENNY | 9 | Men 40 – 49 |
| 33 | 1:57:28 | 13:04 | 246 | DANE | WARD | 1 | Women 40 – 49 |
| 34 | 1:58:27 | 13:10 | 241 | KLAUS | VAN DER LEEDEN | 2 | Men 60 & over |
| 35 | 1:58:43 | 13:12 | 150 | MICHAEL | CHEAPE | 10 | Men 40 – 49 |
| 36 | 1:59:10 | 13:15 | 215 | SAM | PA'E | 11 | Men 40 – 49 |
| 37 | 1:59:19 | 13:16 | 439 | DON | LUI-KWAN | 12 | Men 40 – 49 |
| 38 | 1:59:58 | 13:20 | 227 | STEVE | SAHETAPY-ENGEL | 11 | Men 30 – 39 |
| 39 | 2:01:28 | 13:30 | 296 | CORY | LARIEU | 7 | Men 50 – 59 |
| 40 | 2:01:46 | 13:32 | 240 | BYRON | VALDEZ | 13 | Men 40 – 49 |
| 41 | 2:02:49 | 13:39 | 367 | KAWIKA | CARVALHO | 14 | Men 40 – 49 |
| 42 | 2:03:20 | 13:43 | 167 | JAMES | FARRELL | 8 | Men 50 – 59 |
| 43 | 2:03:31 | 13:44 | 447 | | SPARKY | 3 | Men 60 & over |
| 44 | 2:03:57 | 13:47 | 377 | REID | INOUYE | 9 | Men 50 – 59 |
| 45 | 2:04:01 | 13:47 | 249 | CARNET | WILLIAMS | 15 | Men 40 – 49 |
| 46 | 2:05:17 | 13:56 | 191 | JASON | LAU | 12 | Men 30 – 39 |
| 47 | 2:05:56 | 14:00 | 300 | KAREN G. | WRENN | 1 | Women 30 – 39 |
| 48 | 2:06:18 | 14:02 | 461 | ADAM | LUCHS | 4 | Men 19 – 29 |
| 49 | 2:06:19 | 14:03 | 158 | EGI | DODD | 2 | Women 30 – 39 |
| 50 | 2:07:30 | 14:10 | 133 | DAMON | ANCHETA | 13 | Men 30 – 39 |
| 51 | 2:08:38 | 14:18 | 294 | TOMMY | HOLBROOK JR | 5 | Men 19 – 29 |
| 52 | 2:09:06 | 14:21 | 467 | JOHN S. | HICKS | 16 | Men 40 – 49 |
| 53 | 2:09:20 | 14:23 | 136 | DONNA | BADOME-RAAPHORS | 1 | Women 50 – 59 |
| 54 | 2:12:00 | 14:40 | 282 | JEFF | DAHN | 14 | Men 30 – 39 |
| 55 | 2:14:11 | 14:55 | 254 | TOMOE YASU | YASU | 2 | Women 40 – 49 |
| 56 | 2:16:04 | 15:08 | 465 | JAN | SLEIGH | 17 | Men 40 – 49 |
| 57 | 2:17:16 | 15:16 | 475 | CHRISTOPHER | TSEU | 15 | Men 30 – 39 |
| 58 | 2:18:06 | 15:21 | 195 | CATHARINE | LO | 3 | Women 30 – 39 |
| 59 | 2:25:54 | 16:13 | 132 | SCOTT | AMONA | 18 | Men 40 – 49 |
| 60 | 2:27:56 | 16:27 | 238 | THOMAS | SWANECAMP | 19 | Men 40 – 49 |
| 61 | 2:29:49 | 16:39 | 176 | HAROLD | IGGY | 4 | Men 60 & over |
| 62 | 2:32:05 | 16:54 | 139 | MIKE | BENNETT | 20 | Men 40 – 49 |
| 63 | 2:36:21 | 17:23 | 242 | MYRON | VAN GIESON | 10 | Men 50 – 59 |
| 64 | 2:37:52 | 17:33 | 161 | RAYMOND | EGAN | 11 | Men 50 – 59 |
| 65 | 2:38:59 | 17:40 | 197 | SHARON | LOOK | 3 | Women 40 – 49 |
| 66 | 2:45:12 | 18:22 | 202 | ELMER | MANUEL | 21 | Men 40 – 49 |
| 67 | 2:46:39 | 18:32 | 208 | CURTIS | MILLER | 5 | Men 60 & over |
| 68 | 3:00:34 | 20:04 | 207 | JANE | MELODY | 2 | Women 50 – 59 |

Hawaii Kai Run – Stock Class 12′6 Max
| | | | | | | | |
| --- | --- | --- | --- | --- | --- | --- | --- |
| Race Plc | Time | Pace Mile | Number | Fname | Lname | Cat Plc | Cat |
| 1 | 1:37:52 | 10:53 | 196 | ANDREW | LOGRECO | 1 | Men 19 – 29 |
| 2 | 1:38:35 | 10:58 | 289 | SEPA K. | NAPOLEON | 2 | Men 19 – 29 |
| 3 | 1:40:47 | 11:12 | 209 | KIMO | MIRANDA | 1 | Men 50 – 59 |
| 4 | 1:42:24 | 11:23 | 483 | NOA | GINELLA | 1 | Men 18 & Under |
| 5 | 1:42:24 | 11:23 | 144 | TODD | BRADLEY | 2 | Men 50 – 59 |
| 6 | 1:42:40 | 11:25 | 418 | MATT | BECKER | 2 | Men 18 & Under |
| 7 | 1:43:43 | 11:32 | 189 | BYRON | KURT | 1 | Men 40 – 49 |
| 8 | 1:43:48 | 11:33 | 224 | BERND | ROEDIGER | 3 | Men 18 & Under |
| 9 | 1:44:05 | 11:34 | 187 | CHASE | KOSTERLITZ | 3 | Men 19 – 29 |
| 10 | 1:44:06 | 11:34 | 235 | JEREMY | STEPHENSON | 2 | Men 40 – 49 |
| 11 | 1:44:33 | 11:37 | 290 | BRANDON | RAMBO | 4 | Men 19 – 29 |
| 12 | 1:45:40 | 11:45 | 489 | CHUCK | PATTERSON | 3 | Men 40 – 49 |
| 13 | 1:46:34 | 11:51 | 291 | BRAD | RAMBON | 3 | Men 50 – 59 |
| 14 | 1:47:01 | 11:54 | 154 | MIKEY | COTE | 5 | Men 19 – 29 |
| 15 | 1:47:05 | 11:54 | 338 | ERIC | STARNES | 4 | Men 50 – 59 |
| 16 | 1:47:55 | 12:00 | 425 | TYSON | POPPLER | 6 | Men 19 – 29 |
| 17 | 1:48:36 | 12:05 | 335 | JOHN | BECKER | 5 | Men 50 – 59 |
| 18 | 1:49:42 | 12:12 | 178 | KOLAIAH | JARDINE | 1 | Men 30 – 39 |
| 19 | 1:49:54 | 12:13 | 166 | CAMPBELL | FARRELL | 2 | Men 30 – 39 |
| 20 | 1:50:03 | 12:14 | 214 | ERIC | OLSON | 3 | Men 30 – 39 |
| 21 | 1:50:38 | 12:18 | 163 | LANCE | ERICKSON | 6 | Men 50 – 59 |
| 22 | 1:50:52 | 12:20 | 468 | DALE | HOPE | 7 | Men 50 – 59 |
| 23 | 1:51:02 | 12:21 | 494 | DALLAS | O'SHAUGHNESSY | 4 | Men 30 – 39 |
| 24 | 1:51:46 | 12:26 | 357 | KELLEY | HUNT | 5 | Men 30 – 39 |
| 25 | 1:52:24 | 12:30 | 481 | LELEO | KINAMONKA | 4 | Men 40 – 49 |
| 26 | 1:52:41 | 12:32 | 223 | STUART | ROBINSON | 7 | Men 19 – 29 |
| 27 | 1:52:43 | 12:32 | 244 | KALANI | VIERRA | 5 | Men 40 – 49 |
| 28 | 1:53:02 | 12:34 | 151 | KEVIN | COFFMAN | 6 | Men 30 – 39 |
| 29 | 1:54:34 | 12:44 | 140 | KYLE | BERNHARDT | 6 | Men 40 – 49 |
| 30 | 1:54:39 | 12:45 | 190 | HAYDEN | LANE | 8 | Men 19 – 29 |
| 31 | 1:55:02 | 12:47 | 490 | CHRISTOP | HER ZORBO | 9 | Men 19 – 29 |
| 32 | 1:55:05 | 12:48 | 237 | RON | STJOHN | 7 | Men 40 – 49 |
| 33 | 1:55:42 | 12:52 | 417 | KAWIKA | AKIYAMA | 7 | Men 30 – 39 |
| 34 | 1:55:58 | 12:54 | 422 | AUSTIN | KINO | 10 | Men 19 – 29 |
| 35 | 1:56:07 | 12:55 | 448 | PAT | HUBER | 11 | Men 19 – 29 |
| 36 | 1:57:19 | 13:03 | 326 | HERBIE | TITCOMB | 8 | Men 50 – 59 |
| 37 | 1:57:55 | 13:07 | 253 | NOAH | YAP | 4 | Men 18 & Under |
| 38 | 1:59:12 | 13:15 | 360 | CODY | CLIFTON | 5 | Men 18 & Under |
| 39 | 1:59:17 | 13:16 | 177 | TUCKER | INGALLS | 6 | Men 18 & Under |
| 40 | 2:05:14 | 13:55 | 137 | TRAVIS | BAPTISTE | 7 | Men 18 & Under |
| 41 | 2:05:28 | 13:57 | 458 | TODD | YAMASHITA | 8 | Men 30 – 39 |
| 42 | 2:06:44 | 14:05 | 476 | NITZAN | BENHAIM | 9 | Men 30 – 39 |
| 43 | 2:08:24 | 14:17 | 362 | RYAN | VOCI | 10 | Men 30 – 39 |
| 44 | 2:09:05 | 14:21 | 146 | JAY | BUTKI | 8 | Men 40 – 49 |
| 45 | 2:09:07 | 14:21 | 145 | CHAD | BURGHER | 12 | Men 19 – 29 |
| 46 | 2:09:11 | 14:22 | 308 | BRANDI | BAKSIC | 1 | Women 30 – 39 |
| 47 | 2:09:16 | 14:22 | 245 | RANDY | VIVEIROS | 9 | Men 40 – 49 |
| 48 | 2:09:25 | 14:23 | 491 | ALIKA | WILLIS | 10 | Men 40 – 49 |
| 49 | 2:09:38 | 14:25 | 293 | BODIE | SHANDRO | 11 | Men 40 – 49 |
| 50 | 2:09:52 | 14:26 | 201 | NICOLE | MADOSIK | 2 | Women 30 – 39 |
| 51 | 2:09:55 | 14:27 | 426 | GORDON | ROSS | 13 | Men 19 – 29 |
| 52 | 2:10:55 | 14:33 | 180 | ATILLA | JOBBAGYI | 11 | Men 30 – 39 |
| 53 | 2:11:34 | 14:38 | 142 | JUSTIN | BEYERS | 14 | Men 19 – 29 |
| 54 | 2:12:10 | 14:42 | 147 | CLAUDIO | CHAIN | 12 | Men 40 – 49 |
| 55 | 2:12:35 | 14:44 | 213 | ESTEE | OKUMURA | 1 | Women 19 – 29 |
| 56 | 2:13:53 | 14:53 | 313 | SCOTT | SANCHEZ | 13 | Men 40 – 49 |
| 57 | 2:14:47 | 14:59 | 453 | MARK | KOBAYASHI | 9 | Men 50 – 59 |
| 58 | 2:16:44 | 15:12 | 184 | TATSUMI | KAWAI | 12 | Men 30 – 39 |
| 59 | 2:19:48 | 15:32 | 492 | CHUCK | INMAN | 13 | Men 30 – 39 |
| 60 | 2:20:41 | 15:38 | 152 | ALEX | COLOMA | 14 | Men 40 – 49 |
| 61 | 2:21:37 | 15:45 | 280 | ELISHA | BARRAS | 15 | Men 19 – 29 |
| 62 | 2:24:51 | 16:06 | 286 | CINT | LABRADOR | 14 | Men 30 – 39 |
| 63 | 2:26:09 | 16:15 | 211 | SCOTT | NAGASAWA | 15 | Men 30 – 39 |
| 64 | 2:27:22 | 16:23 | 484 | LAOLA | AEA | 1 | Women 50 – 59 |
| 65 | 2:27:55 | 16:27 | 183 | JASON | KAUHANE | 16 | Men 30 – 39 |
| 66 | 2:28:20 | 16:29 | 463 | TIARE | LAWRENCE | 2 | Women 19 – 29 |
| 67 | 2:28:24 | 16:30 | 135 | DONN | ARIZUMI | 15 | Men 40 – 49 |
| 68 | 2:30:10 | 16:42 | 298 | JASON | LUSK | 17 | Men 30 – 39 |
| 69 | 2:30:26 | 16:43 | 457 | JENNIFER | LEE | 3 | Women 19 – 29 |
| 70 | 2:32:06 | 16:55 | 247 | JOHN | WELLS | 18 | Men 30 – 39 |
| 71 | 2:32:35 | 16:58 | 493 | TONY | MONIZ | 10 | Men 50 – 59 |
| 72 | 2:33:06 | 17:01 | 479 | PETER K. | MARTIN | 1 | Men 60 & over |
| 73 | 2:34:23 | 17:10 | 193 | WESTON | LESLIE | 19 | Men 30 – 39 |
| 74 | 2:35:09 | 17:15 | 427 | MARCIANO | WHITFORD | 8 | Men 18 & Under |
| 75 | 2:35:23 | 17:16 | 173 | SVENJA | HARMS | 1 | Women 40 – 49 |
| 76 | 2:35:37 | 17:18 | 219 | JEFFREY | A PETERSON | 11 | Men 50 – 59 |
| 77 | 2:40:43 | 17:52 | 459 | SEAN | HARRIS | 16 | Men 19 – 29 |
| 78 | 2:41:41 | 17:58 | 440 | GAVIN | VILLAR | 20 | Men 30 – 39 |
| 79 | 2:46:06 | 18:28 | 194 | PHILIP | LIZARES | 2 | Men 60 & over |
| 80 | 2:48:08 | 18:41 | 188 | MIA | KRAB | 3 | Women 30 – 39 |
| 81 | 2:48:44 | 18:45 | 212 | YURA | NASSLE | 16 | Men 40 – 49 |
| 82 | 2:50:18 | 18:56 | 192 | AUDREY | LEE | 2 | Women 50 – 59 |
| 83 | 2:57:44 | 19:45 | 460 | JULIE | DOHENEY | 4 | Women 19 – 29 |
| 84 | 3:13:52 | 21:33 | 466 | JEN | APPEL | 2 | Women 40 – 49 |

Hawaii Kai Run – Unlimited Class
| | | | | | | | |
| --- | --- | --- | --- | --- | --- | --- | --- |
| Race Plc | Time | Pace Mile | Number | Fname | Lname | Cat Plc | Cat |
| 1 | 1:25:50 | 9:33 | 486 | DANNY | CHING | 1 | Men 19 – 29 |
| 2 | 1:28:47 | 9:52 | 170 | SCOTT | GAMBLE | 1 | Men 30 – 39 |
| 3 | 1:29:26 | 9:57 | 138 | CONNOR | BAXTER | 1 | Men 18 & Under |
| 4 | 1:29:33 | 9:58 | 172 | TRAVIS | GRANT | 2 | Men 19 – 29 |
| 5 | 1:29:44 | 9:59 | 464 | DAVID | KALAMA | 1 | Men 40 – 49 |
| 6 | 1:30:47 | 10:06 | 141 | JERRY | BESS | 2 | Men 40 – 49 |
| 7 | 1:31:35 | 10:11 | 203 | NOLAND | MARTIN | 3 | Men 19 – 29 |
| 8 | 1:31:48 | 10:12 | 288 | LIVIO | MENELAU | 2 | Men 30 – 39 |
| 9 | 1:34:53 | 10:33 | 412 | DOUG | LOCK | 3 | Men 40 – 49 |
| 10 | 1:35:18 | 10:36 | 156 | BART | DE ZWART | 4 | Men 40 – 49 |
| 11 | 1:35:57 | 10:40 | 344 | EDMUND | PESTANA | 1 | Men 50 – 59 |
| 12 | 1:36:45 | 10:46 | 243 | JARED | VARGAS | 4 | Men 19 – 29 |
| 13 | 1:37:01 | 10:47 | 239 | SCOTT | TRUDON | 2 | Men 50 – 59 |
| 14 | 1:37:05 | 10:48 | 365 | JEFF | SILVA | 5 | Men 19 – 29 |
| 15 | 1:37:12 | 10:48 | 419 | JEFF | CHANG | 3 | Men 50 – 59 |
| 16 | 1:37:15 | 10:49 | 292 | ROB | ROJAS | 3 | Men 30 – 39 |
| 17 | 1:37:27 | 10:50 | 220 | MARK | RAAPHORST | 5 | Men 40 – 49 |
| 18 | 1:37:57 | 10:54 | 234 | ROBERT | STEHLIK | 6 | Men 40 – 49 |
| 19 | 1:38:01 | 10:54 | 487 | JOSEPH | NAPOLEON III | 7 | Men 40 – 49 |
| 20 | 1:38:07 | 10:55 | 210 | ANDREA | MOLLER | 1 | Women 30 – 39 |
| 21 | 1:39:58 | 11:07 | 157 | JOHN | DEMARCO | 8 | Men 40 – 49 |
| 22 | 1:40:00 | 11:07 | 449 | AKEO | CUBAN | 4 | Men 30 – 39 |
| 23 | 1:42:07 | 11:21 | 221 | JODY | RAGSDALE | 9 | Men 40 – 49 |
| 24 | 1:43:38 | 11:31 | 380 | DANNY | SHEARD | 10 | Men 40 – 49 |
| 25 | 1:44:19 | 11:36 | 229 | ZANE | SCHWEITZER | 2 | Men 18 & Under |
| 26 | 1:44:45 | 11:39 | 472 | THOMAS | MAXIMUS | 11 | Men 40 – 49 |
| 27 | 1:46:59 | 11:54 | 474 | NAKATA | STUART | 12 | Men 40 – 49 |
| 28 | 1:47:41 | 11:58 | 159 | SCOTT | DODD | 13 | Men 40 – 49 |
| 29 | 1:48:11 | 12:02 | 478 | PHILIP KA | I BINNEY | 14 | Men 40 – 49 |
| 30 | 1:49:04 | 12:08 | 206 | SCOTT | MCPHAIL | 15 | Men 40 – 49 |
| 31 | 1:49:51 | 12:13 | 204 | JAMES | MARTINDALE | 5 | Men 30 – 39 |
| 32 | 1:50:44 | 12:19 | 469 | KAEO | ABBEY | 6 | Men 19 – 29 |
| 33 | 1:52:34 | 12:31 | 182 | ERROL | KANE 2 | 6 | Men 30 – 39 |
| 34 | 1:55:49 | 12:53 | 181 | JENNY KAL | MBAC KALMBACH | 1 | Women 19 – 29 |
| 35 | 1:56:12 | 12:55 | 480 | DEVIN | BLISH | 1 | Women 40 – 49 |
| 36 | 1:57:06 | 13:01 | 179 | HEATHER | JEPPESEN | 2 | Women 30 – 39 |
| 37 | 2:01:53 | 13:33 | 488 | GERRY | MOSEL | 4 | Men 50 – 59 |
| 38 | 2:02:10 | 13:35 | 199 | RANDAL | LUI-KWAN | 5 | Men 50 – 59 |
| 39 | 2:04:31 | 13:51 | 285 | REBECCA L | EE JAKEWAY | 2 | Women 19 – 29 |
| 40 | 2:08:06 | 14:15 | 462 | BRYCE | RHODES | 6 | Men 50 – 59 |
| 41 | 2:08:48 | 14:19 | 473 | JEREMIAH | REDINS | 7 | Men 30 – 39 |
| 42 | 2:12:49 | 14:46 | 162 | ROBERT | EGBERT | 16 | Men 40 – 49 |
| 43 | 2:14:00 | 14:54 | 477 | DANE | DEBOER | 17 | Men 40 – 49 |
| 44 | 2:14:05 | 14:54 | 233 | KATIE | SLOCUMB | 2 | Women 40 – 49 |
| 45 | 2:23:02 | 15:54 | 435 | PETER | LUM | 7 | Men 50 – 59 |
| 46 | 2:24:34 | 16:04 | 134 | CAROLYN | ANNERUD | 1 | Women 50 – 59 |
| 47 | 2:31:36 | 16:51 | 175 | EDMUND (F | RED) HYUN | 1 | Men 60 & over |
| 48 | 2:37:22 | 17:30 | 456 | PETER | HURSTY | 8 | Men 30 – 39 |
| 49 | 2:40:38 | 17:51 | 165 | DANIEL | EVANS | 18 | Men 40 – 49 |

Kids 10 & Under
| | | | | | | | |
| --- | --- | --- | --- | --- | --- | --- | --- |
| Race Plc | Time | Pace Mile | Number | Fname | Lname | Cat Plc | Cat |
| 1 | 07:32.4 | 1:54 | 578 | KAMO | JACOBS | 1 | Boys 10 &- |
| 2 | 07:46.1 | 1:57 | 561 | MAKANA | PANG | 2 | Boys 10 &- |
| 3 | 08:06.2 | 2:02 | 579 | ADRIA | MCCCOMBER | 1 | Girls 10 &- |
| 4 | 08:24.6 | 2:07 | 557 | NAINOA | ORR | 3 | Boys 10 &- |
| 5 | 08:30.1 | 2:08 | 581 | DUNEN | FREITUS | 4 | Boys 10 &- |
| 6 | 08:51.5 | 2:13 | 558 | KAILOA | ARAKA | 5 | Boys 10 &- |
| 7 | 11:41.3 | 2:56 | 580 | SYDNEY | COOK | 2 | Girls 10 &- |
| 8 | 12:00.1 | 3:01 | 559 | MAHINA | ARAKA | 3 | Girls 10 &- |
| 9 | 12:47.1 | 3:12 | 556 | CONNOR | FOTI | 6 | Boys 10 &- |
| 10 | 13:06.1 | 3:17 | 560 | KAELIN | TESTER | 4 | Girls 10 &- |

Kids 11-12
| | | | | | | | |
| --- | --- | --- | --- | --- | --- | --- | --- |
| Race Plc | Time | Pace Mile | Number | Fname | Lname | Cat Plc | Cat |
| 1 | 09:43.4 | 2:26 | 572 | MICAH | LIANE | 1 | Boys 11-12 |
| 2 | 09:44.7 | 2:27 | 573 | WESTON | ROGERS | 2 | Boys 11-12 |
| 3 | 10:22.0 | 2:36 | 576 | LYON | FARRELL | 3 | Boys 11-12 |
| 4 | 10:27.6 | 2:37 | 555 | KEONI | PICOLLO | 4 | Boys 11-12 |
| 5 | 10:39.2 | 2:40 | 571 | KEEA | LUM | 5 | Boys 11-12 |
| 6 | 11:38.4 | 2:55 | 577 | KANIERON | HALL | 6 | Boys 11-12 |
| 7 | 11:47.7 | 2:57 | 570 | KAWIKA | RICHARDSON | 7 | Boys 11-12 |
| 8 | 12:31.1 | 3:08 | 554 | ALIKA | TAKENAKA | 1 | Girls 11-12 |
| 9 | 12:43.9 | 3:11 | 575 | GEORGE | LEONG-TITCOMB | 8 | Boys 11-12 |
| 10 | 14:36.5 | 3:40 | 574 | TANDEM | LEONG-TITCOMB | 9 | Boys 11-12 |
| 1 | 12:49.6 | 3:13 | 563 | TRAVIS | BAPTISTE | 1 | Boys 13-14 |
| 2 | 15:09.1 | 3:48 | 562 | BRIAN | DILLAN | 2 | Boys 13-14 |
| 3 | 15:12.2 | 3:49 | 568 | KAINOA | CORREA | 3 | Boys 13-14 |
| 4 | 15:18.8 | 3:50 | 566 | KYLE | AUKAI | 4 | Boys 13-14 |
| 5 | 15:51.8 | 3:58 | 567 | LAURA | KAAIHUE | 1 | Girls 13-14 |
| 6 | 15:54.3 | 3:59 | 564 | BAILEY | MARTIN | 5 | Boys 13-14 |

Open Age Group 14 Ft
| | | | | | | | |
| --- | --- | --- | --- | --- | --- | --- | --- |
| Race Plc | Time | Pace Mile | Number | Fname | Lname | Cat Plc | Cat |
| 1 | 44:52.3 | 11:14 | 337 | ERIC | STARNES | 1 | Men 50 – 59 |
| 2 | 45:26.1 | 11:22 | 332 | JASON | IGNACIO | 1 | Men 40 – 49 |
| 3 | 45:31.0 | 11:23 | 22 | JOHN | DEMARCO | 2 | Men 40 – 49 |
| 4 | 46:23.0 | 11:36 | 345 | BRIAN | SETYUIAUSKI | 3 | Men 40 – 49 |
| 5 | 46:27.7 | 11:37 | 51 | SCOTT | MCPHAIL | 4 | Men 40 – 49 |
| 6 | 49:30.2 | 12:23 | 284 | TOMMY | HOLBROOK JR | 1 | Men 19 – 29 |
| 7 | 50:10.9 | 12:33 | 59 | ROBERT | PICAYO | 1 | Men 30 – 39 |
| 8 | 52:25.2 | 13:07 | 287 | CORY | LARIEU | 2 | Men 50 – 59 |
| 9 | 52:39.4 | 13:10 | 74 | BYRON | VALDEZ | 5 | Men 40 – 49 |
| 10 | 52:44.2 | 13:12 | 71 | THOMAS | SWANECAMP | 6 | Men 40 – 49 |
| 11 | 53:05.6 | 13:17 | 376 | REDI | INOUYE | 3 | Men 50 – 59 |
| 12 | 53:45.6 | 13:27 | 305 | MICHAEL | LUM | 7 | Men 40 – 49 |
| 13 | 54:10.1 | 13:33 | 75 | MYRON | VAN GIESON | 4 | Men 50 – 59 |
| 14 | 54:28.6 | 13:38 | 36 | HEATHER | JEPPESEN | 1 | Women 30 – 39 |
| 15 | 55:27.4 | 13:52 | 12 | MIKE | BENNETT | 8 | Men 40 – 49 |
| 16 | 57:04.2 | 14:17 | 325 | HERBIE | TITCOMB | 5 | Men 50 – 59 |
| 17 | 59:56.2 | 15:00 | 23 | MICHAEL | DILLON | 6 | Men 50 – 59 |
| 18 | 00:33.5 | 15:09 | 48 | SHARON | LOOK | 1 | Women 40 – 49 |
| 19 | 01:39.8 | 15:25 | 4 | BRAD | ANDERSON | 2 | Men 19 – 29 |
| 20 | 06:37.4 | 16:40 | 9 | CHRISTY | BARBADILLO | 2 | Women 40 – 49 |
| 21 | 08:39.6 | 17:10 | 55 | FRANK | NIEMEYER | 7 | Men 50 – 59 |

Open Age Group Stock Class (12′6 Max Length)
| | | | | | | | |
| --- | --- | --- | --- | --- | --- | --- | --- |
| Race Plc | Time | Pace Mile | Number | Fname | Lname | Cat Plc | Cat |
| 1 | 0:45:24 | 11:22 | 406 | TYSON | POPPLER | 1 | Men 19 – 29 |
| 2 | 0:45:37 | 11:25 | 388 | DOLAN | EVERSOLE | 1 | Men 30 – 39 |
| 3 | 0:45:40 | 11:25 | 63 | STUART | ROBINSON | 2 | Men 19 – 29 |
| 4 | 0:46:37 | 11:40 | 423 | DOUG | LOCK | 1 | Men 40 – 49 |
| 5 | 0:46:51 | 11:43 | 34 | MARK | HOUGHTON | 1 | Men 50 – 59 |
| 6 | 0:46:57 | 11:45 | 25 | LANCE | ERICKSON | 2 | Men 50 – 59 |
| 7 | 0:47:29 | 11:53 | 379 | DANNY | SHEARD | 2 | Men 40 – 49 |
| 8 | 0:47:50 | 11:58 | 366 | ROWIKA | CARVALHO | 3 | Men 40 – 49 |
| 9 | 0:47:51 | 11:58 | 336 | JAY | BUTKI | 4 | Men 40 – 49 |
| 10 | 0:50:45 | 12:42 | 394 | GERRY | LOPEZ | 1 | Men 60 & over |
| 11 | 0:50:51 | 12:43 | 271 | TOMMY | DONNELLY | 2 | Men 30 – 39 |
| 12 | 0:50:56 | 12:45 | 29 | MASAO | FUKAYAMA JR | 3 | Men 30 – 39 |
| 13 | 0:51:16 | 12:49 | 329 | BERND | ROEDIGER | 1 | Men 18 & Under |
| 14 | 0:51:40 | 12:55 | 35 | TUCKER | INGALLS | 2 | Men 18 & Under |
| 15 | 0:52:35 | 13:09 | 393 | JAY | CONSLEY | 2 | Men 60 & over |
| 16 | 0:52:52 | 13:14 | 314 | RANDY | ROYSE | 5 | Men 40 – 49 |
| 17 | 0:53:11 | 13:18 | 80 | NOAH | YAP | 3 | Men 18 & Under |
| 18 | 0:53:14 | 13:19 | 15 | CLAUDIO | CHAIN | 6 | Men 40 – 49 |
| 19 | 0:53:21 | 13:21 | 76 | RANDY | VIVEIROS | 7 | Men 40 – 49 |
| 20 | 0:53:32 | 13:23 | 361 | RYAN | VOCI | 4 | Men 30 – 39 |
| 21 | 0:53:37 | 13:25 | 56 | NITZAN | BENHAIM | 5 | Men 30 – 39 |
| 22 | 0:53:43 | 13:26 | 21 | BECCY | CRAVENS | 1 | Women 19 – 29 |
| 23 | 0:54:04 | 13:31 | 363 | TY | ZULIM | 6 | Men 30 – 39 |
| 24 | 0:54:23 | 13:36 | 52 | KIMO | MIRANDA | 3 | Men 50 – 59 |
| 25 | 0:54:52 | 13:43 | 7 | DONNA | BADOME-RAAPHO | RS 1 | Women 50 – 59 |
| 26 | 0:54:57 | 13:45 | 319 | CINDY | GIBSON | 2 | Women 19 – 29 |
| 27 | 0:55:00 | 13:46 | 391 | KALEA | AMADEO | 8 | Men 40 – 49 |
| 28 | 0:55:27 | 13:52 | 8 | TRAVIS | BAPTISTE | 4 | Men 18 & Under |
| 29 | 0:55:41 | 13:56 | 316 | NICOLE | MADOSIK | 1 | Women 30 – 39 |
| 30 | 0:56:05 | 14:02 | 350 | ERIC | KARR | 3 | Men 19 – 29 |
| 31 | 0:56:09 | 14:03 | 295 | REBECCA L | EE JAKEWAY | 3 | Women 19 – 29 |
| 32 | 0:56:53 | 14:14 | 54 | SCOTT | NAGASAWA | 7 | Men 30 – 39 |
| 33 | 0:58:00 | 14:30 | 10 | ORION | BARELS | 8 | Men 30 – 39 |
| 34 | 0:58:25 | 14:37 | 14 | BEN | CABAN | 9 | Men 40 – 49 |
| 35 | 0:58:35 | 14:39 | 28 | MAURIE | FELDBERG | 10 | Men 40 – 49 |
| 36 | 0:58:54 | 14:44 | 339 | JEFF | ERICKSON | 5 | Men 18 & Under |
| 37 | 0:58:54 | 14:44 | 297 | BRYAN | RHODES | 4 | Men 50 – 59 |
| 38 | 0:59:13 | 14:49 | 315 | SHANE | SAKAI | 11 | Men 40 – 49 |
| 39 | 0:59:28 | 14:52 | 368 | SUSAN | RHODES | 2 | Women 50 – 59 |
| 40 | 1:00:23 | 15:06 | 395 | RON | HOUSE | 3 | Men 60 & over |
| 41 | 1:00:38 | 15:10 | 66 | MARTY | SANTOS | 9 | Men 30 – 39 |
| 42 | 1:01:18 | 15:20 | 407 | MARCIANO | WHITFORD | 6 | Men 18 & Under |
| 43 | 1:01:33 | 15:24 | 81 | TOMOE YAS | U YASU | 1 | Women 40 – 49 |
| 44 | 1:01:38 | 15:25 | 349 | NELSON | AHINA III | 7 | Men 18 & Under |
| 45 | 1:02:23 | 15:36 | 317 | JULIE | DE JESUS | 4 | Women 19 – 29 |
| 46 | 1:02:30 | 15:38 | 318 | JENNY | DE JESUS | 5 | Women 19 – 29 |
| 47 | 1:02:42 | 15:41 | 38 | JAMES | JONES | 5 | Men 50 – 59 |
| 48 | 1:02:45 | 15:42 | 65 | NICHOLAS | SALANOA | 4 | Men 19 – 29 |
| 49 | 1:04:05 | 16:02 | 46 | WESTON | LESLIE | 10 | Men 30 – 39 |
| 50 | 1:04:54 | 16:14 | 327 | TEENE | FROISETH | 6 | Men 50 – 59 |
| 51 | 1:05:08 | 16:17 | 358 | DAVID | WEISS | 7 | Men 50 – 59 |
| 52 | 1:07:22 | 16:51 | 37 | HOLLY | JONES | 6 | Women 19 – 29 |
| 53 | 1:08:03 | 17:01 | 50 | DEAN | MCPHAIL | 12 | Men 40 – 49 |
| 54 | 1:08:18 | 17:05 | 62 | KALAELOA | ROBINS | 5 | Men 19 – 29 |
| 55 | 1:08:59 | 17:15 | 30 | KANOELANI | GARCIA | 2 | Women 30 – 39 |
| 56 | 1:09:44 | 17:26 | 45 | AUDREY | LEE | 3 | Women 50 – 59 |
| 57 | 1:10:22 | 17:36 | 27 | SHAUN | FEINGOLD | 6 | Men 19 – 29 |
| 58 | 1:16:25 | 19:07 | 58 | FRANK | PERNA | 4 | Men 60 & over |
| 59 | 1:22:05 | 20:32 | 31 | BUCKY | GOO | 8 | Men 50 – 59 |
| 60 | 1:22:23 | 20:36 | 304 | MICHAEL | GASCON | 11 | Men 30 – 39 |
| 61 | 1:23:10 | 20:48 | 64 | NANI | ROSS | 2 | Women 40 – 49 |
| 62 | 1:37:09 | 24:18:00 | 408 | SHELLY | CATALDO | 3 | Women 30 – 39 |
| 63 | 1:38:05 | 24:32:00 | 16 | AMANDA | CHARLES | 4 | Women 30 – 39 |

Open Age Group Surfboard Class (12′ max lenght)
| | | | | | | | |
| --- | --- | --- | --- | --- | --- | --- | --- |
| Race Plc | Time | Pace Mile | Number | Fname | Lname | Cat Plc | Cat |
| 1 | 0:47:11 | 11:48 | 2 | HILTON ALVES | ALVES | 1 | Men 30 – 39 |
| 2 | 0:53:21 | 13:21 | 330 | KANE | PAI | 2 | Men 30 – 39 |
| 3 | 0:53:24 | 13:21 | 49 | WALTER | MACHADO | 1 | Men 50 – 59 |
| 4 | 0:54:20 | 13:36 | 79 | CORY | YAMAMOTO | 1 | Men 40 – 49 |
| 5 | 0:55:00 | 13:45 | 387 | GERRY | MOSEL | 2 | Men 50 – 59 |
| 6 | 0:56:28 | 14:07 | 43 | ROSS | KOIZUMI | 3 | Men 50 – 59 |
| 7 | 0:57:23 | 14:21 | 17 | JONATHAN | CHONG | 3 | Men 30 – 39 |
| 8 | 0:59:26 | 14:52 | 41 | MICHAEL | KINI | 4 | Men 50 – 59 |
| 9 | 0:59:31 | 14:53 | 13 | BARBARA | BUMATAY | 1 | Women 30 – 39 |
| 10 | 0:59:59 | 15:00 | 413 | KALEO | TIMAS | 4 | Men 30 – 39 |
| 11 | 1:01:37 | 15:25 | 410 | JENNIFER | FREITAS | 1 | Women 40 – 49 |
| 12 | 1:01:59 | 15:30 | 73 | KELLY | THOMAS | 2 | Men 40 – 49 |
| 13 | 1:02:37 | 15:40 | 33 | PAUL | GRAYSON | 3 | Men 40 – 49 |
| 14 | 1:02:58 | 15:45 | 369 | HEIDI | BURGOYNE | 2 | Women 30 – 39 |
| 15 | 1:03:50 | 15:58 | 44 | KEVIN | KONDO | 5 | Men 50 – 59 |
| 16 | 1:04:14 | 16:04 | 1 | MEGAN | ABUBO | 3 | Women 30 – 39 |
| 17 | 1:04:32 | 16:09 | 53 | STEVE | NADALIN | 6 | Men 50 – 59 |
| 18 | 1:05:13 | 16:19 | 39 | JASON | KAUHANE | 5 | Men 30 – 39 |
| 19 | 1:05:17 | 16:20 | 61 | DALBERT | RIVERA | 6 | Men 30 – 39 |
| 20 | 1:05:26 | 16:22 | 18 | ALEX | COLOMA | 4 | Men 40 – 49 |
| 21 | 1:05:40 | 16:25 | 47 | CATHARINE | LO | 4 | Women 30 – 39 |
| 22 | 1:06:06 | 16:32 | 5 | ED | ANGULO | 7 | Men 50 – 59 |
| 23 | 1:06:28 | 16:37 | 19 | AARON | COOK | 7 | Men 30 – 39 |
| 24 | 1:07:17 | 16:50 | 77 | JOHN | WELLS | 8 | Men 30 – 39 |
| 25 | 1:08:31 | 17:08 | 6 | CAROLYN | ANNERUD | 1 | Women 50 – 59 |
| 26 | 1:08:31 | 17:08 | 20 | WILLIAM | COUTURE | 1 | Men 19 – 29 |
| 27 | 1:10:20 | 17:35 | 11 | CORO | BARSATAN | 5 | Men 40 – 49 |
| 28 | 1:11:47 | 17:57 | 72 | NOELLE | TAKEMOTO | 1 | Women 19 – 29 |
| 29 | 1:17:09 | 19:18 | 32 | NICK | GRAYSON | 1 | Men 18 & Unde |
| 30 | 1:21:09 | 20:18 | 40 | TRICIA C. | KIM | 2 | Women 40 – 49 |
| 31 | 1:23:25 | 20:52 | 3 | SCOTT | AMONA | 6 | Men 40 – 49 |
| 32 | 1:23:57 | 21:00 | 303 | EUNICE | FUNG | 2 | Women 19 – 29 |
| 33 | 1:45:09 | 26:18:00 | 70 | YOSHIMI | SUNADA | 3 | Women 40 – 49 |

Open Age Group Unlimited Craft
| | | | | | | | |
| --- | --- | --- | --- | --- | --- | --- | --- |
| Race Plc | Time | Pace Mile | Number | Fname | Lname | Cat Plc | Cat |
| 1 | 0:42:49 | 10:43 | 353 | DANE | DEBOER | 1 | Men 40 – 49 |
| 2 | 0:43:56 | 10:59 | 343 | EDMUND | PESTANA | 1 | Men 50 – 59 |
| 3 | 0:44:00 | 11:01 | 60 | JODY | RAGSDALE | 2 | Men 40 – 49 |
| 4 | 0:45:07 | 11:17 | 409 | JEFF | CHANG | 2 | Men 50 – 59 |
| 5 | 0:49:34 | 12:24 | 42 | DARIN | KOHARA | 3 | Men 40 – 49 |
| 6 | 0:50:14 | 12:34 | 24 | JACK | DYSON | 1 | Men 60 & over |
| 7 | 0:52:21 | 13:06 | 302 | JEREMIAH | REDINS | 1 | Men 30 – 39 |
| 8 | 0:57:42 | 14:26 | 69 | KATIE | SLOCUMB | 1 | Women 40 – 49 |
Related posts