February 24th, 2012 by davi

Travis Grant (AUS) Wins Gold at
2012 ISA World SUP Championships in Peru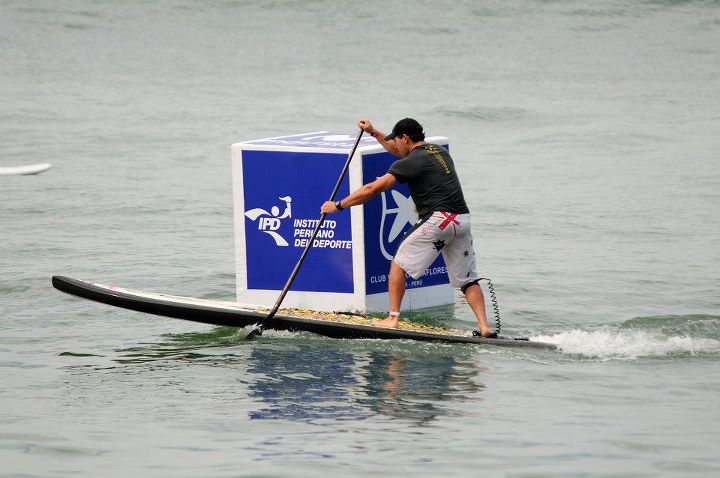 Travis Grant (AUS) and C4 Waterman Ambassador rounds a buoy during the ISA SUP Technical Race in Peru on Friday, February 24, 2012. Photos/ISA.
Playa La Pampilla. Miraflores. Lima, Peru (Feb. 24, 2012) — Elite stand-up paddler (SUP) Travis Grant has won Gold at the International Surfing Association (ISA) World Stand Up Paddle Championships. Team Australia took first and second in the SUP elite mens race, Jamie Mitchell runner-up to Grant, to further extend their lead in the overall standings.
"It really hasn't sunk in yet," said Grant. "But to come all this way to Peru and win Gold means a lot to me, not just personally but also to win it while I am representing Australia means so much. I hope every one enjoys this back home."
In a thrilling final, competitors from 17 countries raced a crisscrossing buoy course through the surf. Midway thru the second lap it was clear that the race was down to two Queensland paddlers: Grant, from Tweed Heads, and fellow team mate Jamie Mitchell, from the Gold Coast. For much of the race, Grant was on Mitchell's tail. But on the last lap of the course he managed to swing wide inside Mitchell and take a wave to pass him, opening a seemingly unbridgeable gap of 12-15 board lengths with three buoy turns to go.
"At that point I just went as hard as I could go to hold that lead," said Grant. "You never know with surf racing what you're going to get, and if anyone could catch me up it would beJamie."
Mitchell is a 10X World Champion for Prone Paddle boarding and also an elite SUP racer.
By the time they hit the last buoy the gap was reduced to about nine board lengths. Mitchell caught a wave to catch Grant and both rode the same line of whitewater to the finish line. Mitchell had achieved the seemingly impossible task of catching Travis and it came down to a running sprint up the finish chute.
Mitchell crossed the beach finish line first but had dropped his paddle on the beach and had to return to retrieve it, allowing Grant to take the win. It was an uncharacteristic mistake that Jamie had no explanation for.
"There's no excuse, it was just a real unfortunate mistake," said Mitchell. "I'm really angry with myself, but losing to Travis is OK, he's consistently been one of the top SUP paddlers in the world so congratulations to him. Also, having team Australia get first and second is great for our country."
The final day of competition resumes tomorrow with more racing and surfing contest. Visit http://isawsuppc.com/ to watch it live.
CHECK OUT TRAV'S TOOLS:
Related posts