May 15th, 2012 by davi
CONNOR BAXTER WINS THE OLUKAI HO'OLAULE'A EVENT!!!!

SUP Magazine writes: "The sport's Best showed up on Maui to compete as young phenom Connor Baxter took the men's Elite title ahead of Australia's Travis Grant, California's Danny Ching, Hawaii's Dave Kalama and Jamie Mitchell (Australia)."

"At the pinnacle of standup is the downwind run, combining every skill in the sport, from paddling, to surfing to seamanship. And one of the most classic downwind runs in all of paddling is the Maliko run on Maui's north shore."

RECAP BY CONNOR BAXTER:
The 2012 Olukai Event was one of the great events. It's a downwind run from Maliko Gulch to Kanaha Beach. This event is on Maui – my home turf, so it was game on. It was on Saturday and started at noon – and there were 280 competitors!!! The forecast was for light wind – which we were all dreading. But – luckily the wind picked up, so there was decent wind for the competition.
I paddled out of Maliko to the start and lined up outside. When the horn blew I knew what I had to do and put my game face on and started paddling as hard as I could. Danny Ching, Dave Kalama and I all pulled out to the front and started to pull away from the other racers. After a little ways, Danny and I pulled away from Dave. Danny and I battled it out for a little bit, then I knew I had to have a little lead on Danny before the flat water.
So I just kept paddling as hard as I could and pulled away from him and never looked back. I caught a little wave going through Camp One and hit the flats and just kept the throttle on as hard as I could. I remained in the lead for the remainder of the race, whereas the next four racers – Danny, Travis, Dave and Jamie – traded places by the finish.
I hit the beach and ran as fast as I could and crossed the finish line in first place – 47 minutes – the fastest time for this event.
I want to thank my sponsors for all their support – Starboard, Maui Jim Sunglasses, Rainbow Sandals, Rista Fins, SIC, Nike, Dakine, GoPro, EFX, On It Pro, Waterman's Sunscreen, Sunrite Maui, Hammer Nutrition, and Hi-Tech Sports.
Also a big Mahalo to all the event organizers and volunteers. Great Event!! I'll be back next year for sure!!!!!
Aloha -
Connor Baxter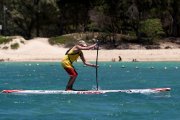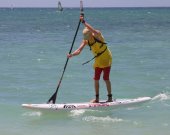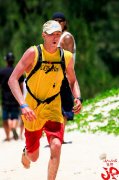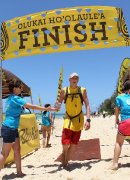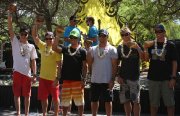 Related posts