May 16th, 2012 by davi

The dates of this year's event is set:
September 15 & 16, 2012
Our 2nd Annual Surf Fest was a blast. We would like to thank all the contestants and sponsors that contributed to making it such a memorable event.

This year we will be holding our 3rd Annual John "Pops" Ah Choy Surf Fest earlier on September 15-16, 2012. Along with our usual divisions, we will be adding new events–a youth relay race and a corporate relay race. Check our website for divisions and registration forms. Come down and join us for two fun-fiulled days of surfing and music. Entertainers for this year's contest include: Natural Vibrations, Kapena, Troy Fernandez and Family, John Cruz, Robi Kahakalau, Jeff Rasmussen, Na Leo, Kapu Systems, Sunrise Jammers, and Makaha Sons.
Proceeds from the contest will be donated to Susan G. Komen for the Cure Hawaii to aid in the fight against breast cancer. If you would like to make a donation to the John "Pops" Ah Choy Foundation, you may mail checks or money orders payable to the John "Pops" Ah Choy Foundation to the following address:
John "Pops" Ah Choy Foundation
2950 Ala Ilima St. #204
Honolulu, HI 96818
For more information, please visit:
http://johnpopsahchoy.webs.com/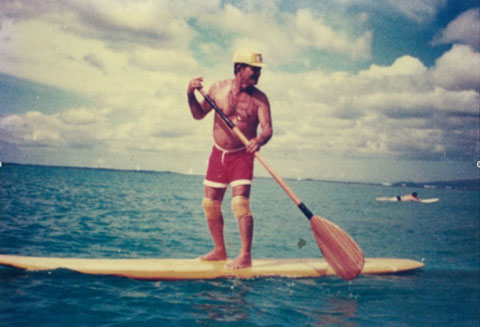 John "Pops" Ah Choy stand up paddle surfing at Waikiki.
About Us
The John "Pops" Ah Choy Foundation was created on June 3, 2010 to honor one of the great men who started the sport of stand-up paddle surfing in hopes to continue his legacy for the future generations of surfers in Hawaii and throughout the world. This year the foundation will hold its first annual stand-up paddle Surf Fest. Proceeds from this event will aid local charities and provide scholarships for students. This year we have chosen the Alzheimer Association of Hawaii as our charity. Scholarships will be created and available for student athletes in water sports who wish to continue their education after high school.
Related posts