June 3rd, 2012 by davi
Connor Wins the Haleiwa SUP Race

Recap of Event – by Connor
The 2012 Surf N Sea's event at Haleiwa was a super fun day at the beach with friends and family. I flew over to Honolulu from Maui the night before the race – and then my dad and I got up super early and drove from Kaneohe to the North Shore.

The day kicked off with a 4-mile race in a circle and then back to the beach for a running finish. I used my Starboard 12′6″ BOP Race board. There was crosswind, headwind and a little wind behind me. I had a great start and got to the front right in the beginning and stayed there for the two laps and hit the beach in first.
The top ten from that race made it to the second round, which was a different shorter course that went straight out, then back to the beach. Same with the first race, I had a great start and got to the front and held the rest of the pack off to the buoy and back to the beach. I ran up the beach in first.
For the third round, the top 5 made it and it was a full bore sprint down and back three times. We had people holding our boards for a fair start. When the horn blew I had one thing on my mind "WIN"! So I paddled my hardest and right in the beginning lost my balance and fell in. They all got ahead, but with me falling, it just made me paddle even harder. Before they got to the first buoy I caught up and was back in lead – but I was tied with the guy next to me and we battled it out until the last leg and I just went all out and came in first.
So, I won all of the races and got $1,000. After the prize giving – there was a great raffle. Hundreds of prizes.
A big Mahalo to all the event organizers and volunteers. Great Event!! I'll be back next year!!!!!
I want to thank my sponsors for all their support – Starboard, Maui Jim, Rainbow Sandals, Rista Fins, Nike, Dakine, GoPro, On It Pro, Waterman's Sunscreen, Sunrite Maui, Hammer Nutrition, Garmin, EFX and Hi-Tech Sports.
Aloha -
Connor Baxter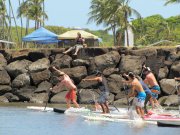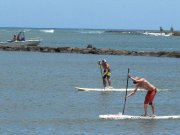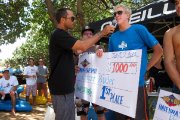 Related posts