August 16th, 2012 by davi
Connor gets straight Bullets in the Long Distance and Sprint Race Course – and takes the Overall Title at the World Series Event!!!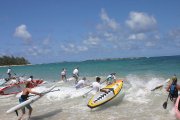 World Series Event – recap Connor Baxter:
The 2012 Turtle Bay contest was super sick and a lot of fun. It was a two day event with the long distance and the sprint race.

The first day it kicked off with the distance race from Hukilau Beach to the Turtle Bay Hotel. It was an 8 mile race with little bumps, but for me any type of bump there is, I take advantage of it. It was a beach start and once my board was in my hands and I was on the starting line I knew what had to be done. When I heard that horn blow, I ran down the beach and got straight up to my feet and paddled as hard as I could for the first few minutes to get out in front. We had to go straight out to Goat Island, then we could start to head downwind to the finish. I wasn't paddling that hard to get around the island, cause I knew once I headed downwind I would be able to take advantage of the small bumps and get out in front.
So, I paddled as hard as I needed to and then I turned around the island and put my head down and started to catch some little swells. It was pretty messy with swells coming from every direction, but every now and then there was a good bump going the right way. I stayed in the lead the entire time with Kody Kerbox and Andrew Legreco right on my tail. As I got closer to the finish I had a good lead on second, but I was still paddling as hard as I could just to make sure. We had to come in through a little key hole through the reef which made it interesting. I caught a wave to the beach and ran up in first place. I was super stoked on the win and now was preparing for the next day.
On Sunday, the Sprint Race day, everyone was at the beach and wanted revenge, so I knew I had to be on it. It was ran in heat format, so I knew not to use all my energy in the first heats, so I had lots for the finals. I was in the first heat and I got in the water for a water start on my knees. The horn blew and I only went as hard as I needed to just to make it through. I rounded the first buoy in third and just stayed in third to the next buoy. I rounded that one and started looking for a little wave and sure enough I caught one and no one else did so I came in first. In the next heat I had a little harder competition so I had to paddle harder to make it through. So I paddled just as hard as I needed to make to the semi finals and sure enough I got first again. In the semi finals, we had some of the best in it, including my fellow teammates Zane and Bart, so this one was harder. But I just put my head down and made sure I would make it to the finals. I rounded the final buoy with Zane and Bart behind me. I came in first place again – and was feeling good – but now this is where it all comes down.
For the finals it was two laps, so I knew I had to go as hard as I could. This one counted so I knew I had to use every ounce of energy I had to get first. So we all lined up on the start line and were all on our knees ready to go. When that horn blew I exploded off the line and got out to the front before the first buoy. I had the inside at the first buoy, so turning I kept in first and kept the lead to the next buoy and once again started to hunt a wave down. Kody and I caught a wave to the inside, but he fell off the wave and I kept on it to make the gap. I turned the inside buoy and headed back out for the last lap. I had a good gap so knew I had it but I still was going all out. When I turned the last buoy I knew I had to catch a wave and sure enough found a little one and crossed the finish line in first.
Pacifico Beer was one of the great sponsors of the event – and at the awards I had an unexpected prize – a bike!!! Thanks Pacifico Beer!!
I want to thank my sponsors for all their support – Starboard, Maui Jim, Rainbow Sandals, Rista Fins, Dakine, GoPro, OnIt Pro, Waterman's Sunscreen, Sunrite Maui, Hammer Nutrition, EFX, and Hi-Tech Sports. And, my newest sponsor – iDcard!!!
Also a big Mahalo to all the event organizers and volunteers. Fun Event!!
Looking forward to the next event in Cocoa Beach Florida!!
Aloha -
Connor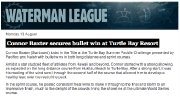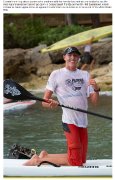 Start of the Long Distance Race – Connor in the lead!! Goat Island dead ahead.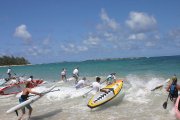 Team Starboard celebrating after the Long Distance Race – Annabel, Bart, Connor & Zane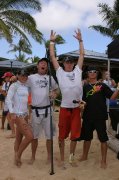 Connor and his Hammer Nutrition – Recoverite after the long distance race!!!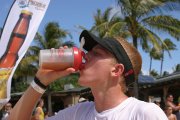 Team Starboard – 1st, 2nd, 3rd in the Semi Finals!!! Connor, Bart, Zane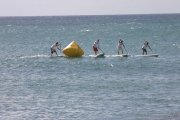 Team Starboard – Bart and Zane heading to the finish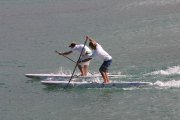 All the boys relaxing before the finals – except Connor who decides to pour a glass of ice water on Bart!!!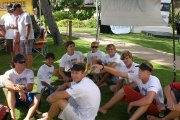 Start of the Finals: Connor, Bart, Zane, Kody, Andrew, Mo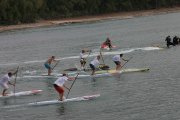 Connor catching a small wave to the finish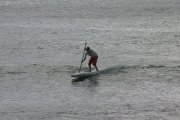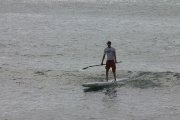 Connor taking a stretch on his way to the finish line!!!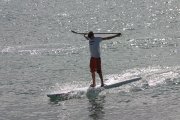 Connor takes home an unexpected Bike – Donated by Pacifico Beer!!!!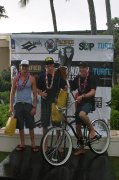 Related posts