December 16th, 2012 by evan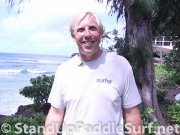 If there was ever a perfect resort for stand up paddlers and surfers, Turtle Bay would easily come in first place. It's really the only large resort on Oahu's north shore and is positioned to give active vacationers everything they need. When I stay on the North Shore, Turtle Bay is now where I stay.
I hadn't been to Tutle Bay for years until 2011 when I went out to cover the Waterman's League Turtle Bay Challenge. The surf race which went in and out of overhead surf was held in the most spectator friendly area I've ever been to for a SUP event. This is because the vantage point from the pool side area allows people to see the action up close for the entire race. If you've been to races like Battle of the Paddle then you know it's exciting when the racers are near the shore but once they leave the shore, it's pretty boring because nobody can really see what's going on. The racers are too far out. It's really easy to lose interest when the action is far away. It's also harder to get good pictures and video because you need a fast lens with lots of zoom.
Not the case at Turtle Bay. You can sit in the bleachers, sip a Mai Tai and easily take pictures with a normal zoom lens. There's restrooms, a pool, jacuzzi, food/drinks available and lots more. The last Turtle Bay Challenge I took my family with me and we stayed at the resort. The kids swam in the pool while I did my thing at the races. I've shot some of my best pictures at Turtle Bay.
Mark "Skip" Taylor gives us and in-depth look at what Turtle Bay Resort has to offer. Aside from ocean/water sports like stand up paddling and surfing, Turtle Bay has a ton of activities that feature the beautiful North Shore of Oahu. Check out the video below.


(click thumbnail to launch video)
If you're planning a trip to Oahu and are more of the adventurous type, you should stay at Turtle Bay. Surf in the morning, swim with kids after breakfast, lounge in the jacuzzi in the evening and watch the sunset. During the day you can play in both the surf and the lagoon. SUP surf one side and paddle flat water and snorkel on the other. Do a downwinder and end at the hotel lagoon. Rent your surf gear and don't worry about traveling with too much stuff. Ride a Segway then ride a horse. Check out where Lost, Forgetting Sarah Marshall, Pirates of the Caribbean, Hunger Games 2 and lots of other movies and tv shows were filmed. Rent a free gopro camera and video everything to share with others later. Take a quick drive and eat some fresh shrimp, shave ice and check out sea turtles and seals. Visit the Polynesian Cultural Center and eat a plate lunch.
Turtle Bay also has a partnership with Surfer Magazine to run the happening bar/restaurant/night club called Surfer the Bar. Once a week they host talk story sessions with surfing legends and also a host of other events and activities. There is a lot of nightlife available at the lagoon bar and Surfher the Bar.
Turtle Bay is a perfect place to stay when you're trying to experience more than Waikiki.
Related posts