August 25th, 2013 by davi
Connor Baxter Wins Overall Title at the Stand Up World Series – Chicago
His 5th Straight Overall Title!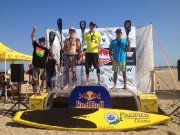 ReCap of Event by Connor
The 2013 Stand Up World Series Event in Chicago was a good turnout. We had some of the best paddlers show up from all over the world. And the interest from the beach goers from last year was significant. Loads more spectators.

I was super stoked to be back in the big (windy) city and be on the lake that looks like a huge ocean. My teammate and close friend Zane Schweitzer and I traveled together from Honolulu after the Ultimate SUP Showdown event in Waikiki – direct to Chicago.
The contest started up on Saturday with the Sprint Racing. There were 16 of us racers and we were placed in two heats. The first heat was pretty mellow and I didn't have to paddle too hard. I came in first, which put me in the semi finals. I rested up and took it easy until my next heat.
When I was on the starting line for the semi's I knew I had to be in the top three, so I put my head down and paddled my brains out and rounded all the buoys in first. I was stoked to be in the finals and to battle some of the best paddlers.
Now – it was the finals. When I was on the starting line all I wanted was to come in first. So when that horn blew I put my head down (as usual) and paddled hard. When I looked to my right, Kai was hammering hard and in front, but when he did the first buoy turn he lost a lot of power, so I took this opportunity and caught up to him. Going to the last buoy I was right behind him. We did a slight turn and I shifted to 6th gear and pulled up side by side with Kai. He jumped off first and I followed and ran up the beach just a little faster (not too graceful when you see the photos) and took the win.
I was super stoked to take the win for Day One and pumped up for the distance race for Sunday.
The next morning I woke up and headed back to the event site. I did a quick warm up and was ready for the long distance. It was a really hot day – so I took a quick dip in the water. And then the horn blew. I didn't go all out and stayed in fourth place to the first buoy. I did a quick buoy turn and caught up to Kai. I stayed behind until the next buoy and we turned it together and I started to notice some bumps going to the next buoy. I used my downwind skills and started to pull away from Kai. Next thing I knew I was turning the buoy and notice I was a good distance on Kai. I kept paddling hard to the next buoy. When I was just about to turn the next buoy the jet ski pulled up next to me and told me I didn't need to round that mark. I looked up and starting paddling super hard. I caught back up to Kai and was right behind him. I stayed behind him to the next buoy and then when we hit the downwind part I pulled away from him again.
And this time I knew where I was going! So I did a quick buoy turn and sprinted the last mile and a half to the finish line. I stayed in front and made a little more distance in front of Kai. I was so stoked to have pulled off two wins and to go home with the Overall Title.
It was a great weekend with teammates, racing friends and with friends that came up from Wisconsin – as well as my cousin Sean from Florida, who was there to cheer me on.
Always have fun and Never Give Up. My mantra which keeps me going even when I go to an extra buoy, or don't have a perfect start, or get behind. It keeps me focused and I know – it is not over until the finish line. Never give up! And – always have fun!
I want to thank my sponsors for all their support – Starboard, Maui Jim Sunglasses, Rainbow Sandals, Futures Fins, Dakine, Trident Sports, GoPro, OnIt Pro, Waterman's Sunscreen, Igloo Coolers, Sunrite Maui, Hammer Nutrition, iDcard, EFX and Hi-Tech Sports.
Also a big Mahalo to all the event organizers and volunteers.
Aloha,
Connor Baxter
Semi's – Connor in front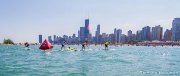 Sprint Finals – Connor & Kai sprinting to the Finish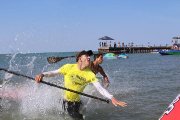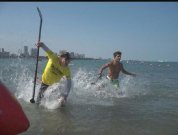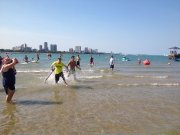 Team Starboard on Podium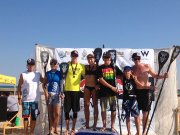 Related posts