September 23rd, 2013 by davi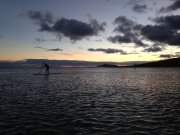 Congratulations to the finishers at Sunday's Wet Feet/Blue Planet race!
Results: http://racesplitter.com/races/45871BCB0
Wednesday coaching/time trial starts at 5:30 pm.
Coaching topic: Using blade angle/steering strokes, forward strokes.
Where: We meet in the parking area on the opposite end of the Hawaii Kai Boat ramp, close to where the Molokai race finishes. We will start with some weekly coaching tips and stretches before hitting the water to do some drills and warm up for the time trial.
When: 5:30 pm this Wednesday and every Wednesday until further notice
What: We will start with signup, technique coaching on the grass with a different topic/focus each week, drills, warmup, paddle to the start. The time trial will start around 6:15 pm on the beach at Portlock. We will keep track of name, race number, board class (12′6, 14′, unlimited, other watercraft welcome to join) and male/female, no age groups.
Why: The goal is to improve technique, stay in shape and boost performance. Comparing times will allow us to see improvements in conditioning, the effect of using different technique and gear, and the impact of the conditions/wind. Times will be recorded and posted online after each time trial and we will have a spreadsheet that will make it easy to compare performance. We want to encourage some of the younger paddlers and help them become competitive racers. Please join us and forward this email to any friends you think might be interested, the more the merrier. Although the coaching/time trials are geared towards more advanced paddlers, we always welcome less experienced paddlers that want to improve their skills.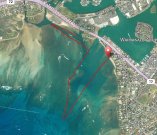 This is the bay course: Portlock beach start to the blinker buoy (last channel marker), to the inside green #1 channel marker (left turn), right hand turn on the last green channel marker by the canoe hale, back toward the keyhole. The finish is at the red #14 marker.
This #14 marker is the finish line.
Payment information:
The first time trial is always FREE to newcomers. If you are attending for the second (or more) time, there is a charge of $15 per class or $100 for a pack of 10 ($10 per class). We don't take payments at the event, so please go to either the Blue Planet or Wet Feet store to pay, or you can pay for it online here (you can choose one time pass or 10x pass in options):
http://blueplanetsurf.com/products/weekly-wednesdays-coaching-and-time-trials-pass
If you purchase a 10 pack, we will use the time trial results to keep track of how many time trials you have attended. Jeff is keeping a spreadsheet of who paid and how many credit were used. We will let you know when the next payment is due. Mahalo!
For more information of the Weekly Wednesdays coaching and time trials, please visit this post:
http://zenwaterman.blogspot.com/2012/10/weekly-time-trials-in-hawaii-kai-video.html
Related posts