October 17th, 2013 by evan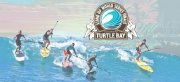 Here are some photos I took from day 1 of the 2013 Stand Up World Series Finals distance race that started at Turtle Bay and ended at Ali'i Beach Park in Haleiwa. The race started off with no wind but it picked up a little bit during the race. It still looked like a lot of paddling and not much bump riding. I saw Annabel Anderson on the beach and was a bit confused as to why she wasn't paddling. Turns out that Annabel already won the overall #1 rank for the year so she was taking a break.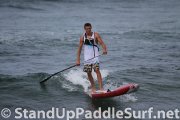 Race winner Jake Jensen
Jake Jensen from Australia won the race and right after him came in Andrew Logreco. I don't know much about Jake but I do know that Andrew is an animal when it comes to sports.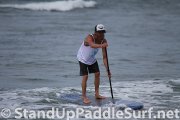 Andrew Logreco
I don't know much about Jake but I do know that Andrew Logreco is an animal when it comes to sports…and that's not because he's sporting the unibomber beard. I heard that Andrew ran back to his car barefoot after a Duke's Oceanfest Hawaii Kai Race. That's a 9.5 mile downwind paddle and then to run 9.5 miles on concrete and asphalt to get back to the car is simply nuts to me. I have to give big time respect to these athletes because they are fighters.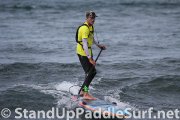 Connor Baxter
Connor Baxter paddled with an injured rib. He popped it out during a buoy turn at the Battle of the Paddle a couple weeks before. Those injuries take months to heal and I know they hurt bad because I nursed a rib injury a few years back and I couldn't laugh or cough, much less paddle. Connor fought hard all weekend and never gave up. He showed great tenacity for such a young competitor.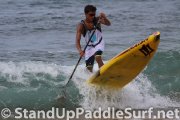 Kai Lenny
Kai cruised on in right after Connor and pulled a little wheelie move at the shore and stepped off his board.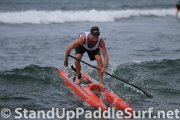 Robert Stehlik
Robert Stehlik was the surprise finisher for me. I knew that he would be faster on my SIC Standamaran, but I didn't expect him to come in just behind Kai Lenny and Connor Baxter. Robert told me that in the middle of the race he thought he could keep up with Connor and Kai but toward the end he ran out of energy. I'm still impressed.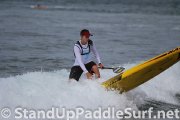 Kody Kerbox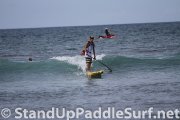 Casper Steinfath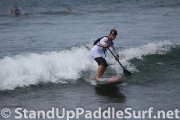 Zane Schweitzer
Zane Schweitzer is always intense. I last saw Zane at the finish of the Molokai to Oahu Race and he was being hauled off in the ambulance after puking his guts out. Zane's been fighting a sickness that he picked up traveling. Hopefully he's fully healed. Judging by how he was paddling, he looked good to go.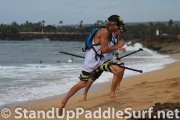 Sprint to the finish line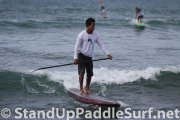 Kaeo Abbey
Kaeo Abbey was in the middle of the pack for this race. Kaeo showed his stuff at the Duke's Oceanfest where he won the distance race and confirmed a story I heard about him while paddling in the Maui to Molokai race. Turns out that he got a late start and the race didn't require an escort boat so he jumped on his board without a leash on Maui and paddled toward Molokai. Around halfway into the race (27 miles total), Kaeo fell off his board. He quickly ditched his paddle and swam like a dolphin to catch up to his board. Lucky for him it didn't start flipping around in the wind because there is no way he would have been able to swim fast enough to catch it. He got lucky and finished the race but the lesson is to always have a leash.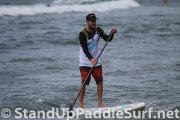 Ingo Rademacher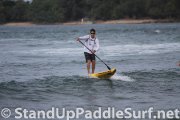 Noa Ginella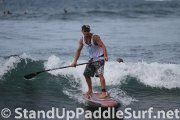 Bart de Zwart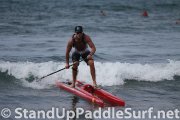 Ed Wheeler
Ed had a nice wave ride into the finish. The waves were coming in head high and Ed got lucky on a smaller set, almost lost his balance but recovered and made it in easily. The Standamaran is not meant for riding larger waves. Ed showed that he's been putting the time in needed to dial in his balance. All this after just coming back from his honeymoon in Tahiti.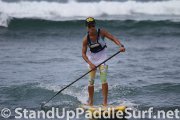 Mariko Strickland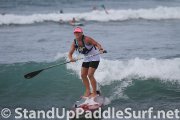 Angela Jackson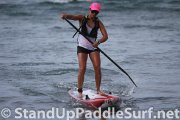 Olivia Piana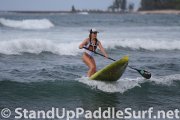 Halie Harrison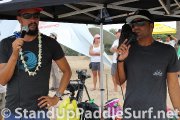 Rocky Cannon and Kaipo Guerrero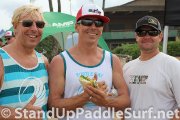 Turtle Bay's Mark "Skip" Taylor (left) with Tristan Boxford
This was a great event. Thanks Skip and Tristan. I always look forward to this race and especially the Turtle Bay Surf Race.
RESULTS:
| | | | | |
| --- | --- | --- | --- | --- |
| Rank | Athlete | Nation | Long Distance | Time |
| 1 | Jake Jensen | AUS | 0.7 | 1:38:27:06 |
| 2 | Andrew Logreco | HI | 2 | 1:40:38:06 |
| 3 | Connor Baxter | HI | 3 | 1:41:07:06 |
| 4 | Kai Lenny | HI | 4 | 1:41:38:06 |
| 5 | Paul Jackson | AUS | 5 | 1:42:14:09 |
| 6 | Riggs Napoleon | HI | 6 | 1:42:27:06 |
| 7 | Kody Kerbox | HI | 7 | 1:43:04:00 |
| 8 | Casper Steinfath | DK | 8 | 1:44:22:08 |
| 9 | Zane Schweitzer | HI | 9 | 1:44:22:10 |
| 10 | Kaeo Abbey | HI | 10 | 1:45:08:02 |
| 11 | Eric Terrien | FR | 11 | 1:45:09:14 |
| 12 | Vinnicius Martins | BRA | 12 | 1:45:10:18 |
| 13 | Arthur Arutkin | FR | 13 | 1:45:50:02 |
| 14 | Josh Riccio | US | 14 | 1:46:53:06 |
| 15 | Noa Ginella | HI | 15 | 1:47:41:08 |
| 16 | Vincent Veerhoven | FR | 16 | 1:52:15:09 |
| 17 | Beau O'Brien | AUS | 17 | 1:52:51:06 |
| 18 | Bart de Swart | NED | 18 | 1:53:45:05 |
| 19 | Fritchof Sach | GER | 19 | 2:13:23:04 |
| 20 | Stuart Howells | UK | 20 | 2:51:21:07 |
| | Mo Freitas | HI | | DNF |

Top 6 Women's Long Distance
| | | | | |
| --- | --- | --- | --- | --- |
| Rank | Athlete | Nation | Long Distance | Time |
| 1 | Mariko Strickland | HI | 0.7 | 1:55:53:02 |
| 2 | Angela Jackson | AUS | 2 | 2:00:25:06 |
| 3 | Olivia Piana | FR | 3 | 2:05:25:03 |
| 4 | Halie Harrison | HI | 4 | 2:08:34:06 |
| 5 | Noelani Sach | GER | 5 | 2:19:00:00 |
| 6 | Lara Claydon | HI | 6 | 2:31:33:09 |

More photos:

Related posts