June 20th, 2014 by davi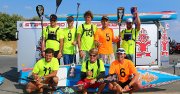 Congratulations again to Zane Schweitzer for his outstanding performance in Oleron, France. Zane provides us with his feedback on the event, the lead up to participating and his exciting trip to the 1st position on the podium.


(click thumbnail to launch video)
A shout out to all our Starboard Team Riders for as we also saw Titouan Puyo in 2nd and Beau O'Brian in 4th, while Leonard Nika (6th), Gaetan Sene (8th), and Dylan Frick (10th), round put the top 10. And a Big Thanks to Pascal Pouget for his continued support of our team!
Good Luck in Lost Mills to our entire team.
More from Zane here:
I have been staying at Barrika surf camp teaching advanced SUP racing and surfing for the last week since we finished the Bilbao World SUP Challenge. I wasn't planning on attending the Oleron Event since I was teaching clinics through Saturday, but then came up with a plan to make it out! Ibon, my friend I was coaching learned a lot in the last 6 days we were working together and I asked if he'd like to race in the Amateur division this weekend, then we could drive up together and both race! Ibon was stoked on this plan so we packed our bags Friday and took the road trip out to Oleron from the Basque!

I feel fit and healthy staying with Lurta Nikolas and his family at Barrika surf camp because we are eating a lot of good food and on the water all day everyday! It has been a blast and a great warm up coming into Oleron! The first day of competition was the 18k distance race and we had super fun conditions with good wind on the back and some nice bumps to catch glides all the way down the coast! Beau Obrian lead the first few kilometers on the ACE upwind, then shortly after we turned the buoy downwind I was able to catch up and take the lead for a good chunk of the race. I had a great line for the first half of the race riding the waves on the inside and in the lead, after passing the first two points the island started to bend a bit and the better line shifted to the outside, by the time I noticed this I saw Titouan and Beau coming up on me.. I lost a lot of ground by not transitioning to the outside line sooner, but still was able to finish with a 3rd, just behind Eric Terrain and Titouan. My friend Ibon finished great as well in the top 10 of the Amateur, and his first race!!

The next day was the Sprints and I knew I had to be a few positions ahead of Titouan and Eric to take the overall win, I am much more confident in the sprints, and was ready for battle.. I took first in every heat of the event all the way into the finals!! It was great to see Beau O'Brian doing so great in the sprints as well, he always impresses me with his sprints.. After this we had a big closing ceremony on the beach and I was crowned the SUWS Oleron Challenge champion.. I am so stoked to have won another Stand Up World Series title, and back to back!!

I am supposed to leave to Maui on Monday.. But Im gonna have to stay in Europe and see how long I can keep this winning streak going!! Change of plans; Next stop Lost Mills!!

See you On The Water!!!

~Zane Schweitzer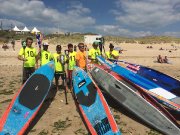 Related posts