July 13th, 2014 by davi
Connor Baxter Wins
The Maui-2-Molokai Championships
For the 6th Consecutive Year!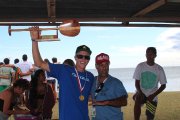 RECAP BY CONNOR:
The 2014 Maui-2-Molokai World Cup Championships was a great event. We all got up early – 5:00am – so that we could gas up the boat and get over to Mala Wharf to launch our boat. My dad, mom, sister and girlfriend were all on the boat to cheer me on.
The race started at Honolua Bay at 10 o'clock on the dot. When the horn blew Kai, Dave, Livio, Travis and I – as well as the rest of the competitors all stood up and started paddling towards Molokai. There were 76 competitors this year – which was fantastic.
This crossing is a 27 mile race to Kaunanakai town on Molokai. For the first hour we have to get across to Molokai – then for the last two hours we get to go straight down the coast along Molokai. This is my favorite part of the race because you get to catch a lot of great glides that go very far. In the beginning Kai, Travis, Dave and I were all pretty much together and then I caught a perfect swell and put a little gap on everyone. From this point on I didn't turn around and just kept the power on – catching glide after glide.
Next thing you know I had a very comfortable lead and knowing that I have a lot of races coming up I let off some of the power off and just started surfing the bumps. I was in the zone and kept a good pace going for the last 13 miles down the coast to the harbor. When I finally saw the harbor entrance I knew I had the win, but I hadn't noticed Kai gaining on me. So my dad, mom, sister and girlfriend started yelling to paddle harder. So I shifted into overdrive and put the power on for the last 5 miles. It was high tide so I decided to go on the inside through the reef – which was smart but very risky. I had a few moments where I hit my fin and had to jump on the nose of my board. I kept the lead with a solid two minutes ahead of Kai. Dave Kalama was third, Travis Grant fourth and Livio Menelau fifth.
My time was 3 hours and 4 minutes – only 9 minutes off my official record time set of 2 hours 55 minutes. Not bad considering the conditions were not as epic as that year.
I am super stoked to win this crossing again for my 6th time in a row. I now have a good feeling that this is my race and my goal is to win it for many more years to come.
I want to thank my sponsors for all their support – Starboard, Dakine, Maui Jim Sunglasses, Rainbow Sandals, Futures Fins, Virus Sportswear, Trident Sports, GoPro, OnIt Pro, Waterman's Sunscreen, Garmin, Igloo Coolers, Hammer Nutrition, iDcard, Sunrite Maui, and Hi-Tech Sports.
Also a big Mahalo to all the event organizers and volunteers. Great Event!! Thanks Rodney!
Aloha,
Connor Baxter
** Photos by my momanger – Karen Baxter (except for the one she is in – which my sister Ashley took!)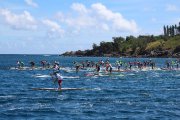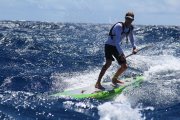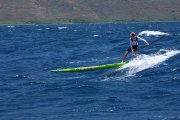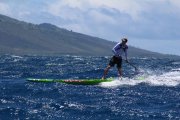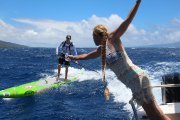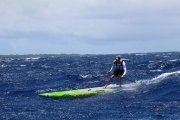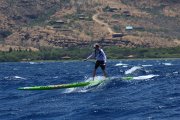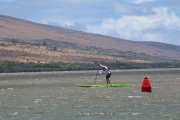 Related posts