May 18th, 2015 by robert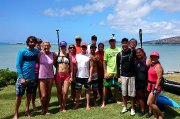 Training Group: Downwinder on Wednesday, Sandy's to Hawaii Kai Race on Sunday

Please meet at Wai'alae Beach Park in Kahala at 5 pm to catch the trailer, launch will be from Canoe Hale in Hawaii Kai.
Please let Robert or Jeff know by Tuesday afternoon if you would like to demo a race board. Please note that training group payments no longer go to Blue Planet/Wet Feet but to the non-profit SUPAH, see bottom of this article for the payment link.
This is the windguru forecast page we like to check:
http://www.windguru.cz/int/index.php?sc=20449
Wet Feet/Blue Planet Summer Series Races are available for online entry now:
Race#1: May 24th- Sandy's to Hawaii Kai
https://paddleguru.com/races/WetFeetBluePlanetSurfWPARegionalChampionships2015
Race#2: June 20th- Sunset to Haleiwa
https://paddleguru.com/races/HawaiiWPANationalRace2015
The tentantive 2015 race schedule is posted on the Wet Feet website: http://www.wetfeethawaii.com/2015-SUP-Race-Schedule.pdf

This is the GPS track of a Kahala Run, about 5 miles.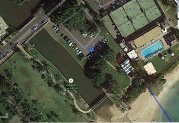 This is the Kahala Beach Park where we usually meet (unless other location is specified above), also known as Waialae Beach Park.
The first training group is always FREE to newcomers. If you are attending for the second (or more) time, we ask that you make a contribution to SUPAH. You can purchase a single session for $15 or a 10 session pass for $100. If you purchase a pass we will keep track of your usage. All proceeds are a donation to the Stand Up Paddle Association of Hawaii, a 501(c)(3) non-profit organization, whose mission is to promote SUP training, racing and youth development. We don't take payments at the event, so please go to this link to make the payment:
http://wetfeet.rezgo.com/details/50782/training-clinic
Demo boards:
Please reserve a demo race board with 24 hour notice with either Robert or Jeff, please make a $20 contribution to SUPAH per demo board use which includes transport to and from the event.
Mahalo!
For more information of the Weekly Wednesdays coaching and time trials, please visit this post:
http://zenwaterman.blogspot.com/2012/10/weekly-time-trials-in-hawaii-kai-video.html
Related posts