June 24th, 2015 by davi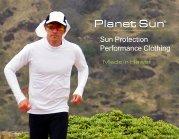 Planet Sun just launched a Kick Starter campaign for their new Sun Protection Performance Clothing…. You may know these guys, as they do a lot for the community, supporting events and educating EVERYONE on sun safety and skin cancer for many years.

They spent over a year developing this line, and like all they do, it is as good as it gets for performance suncare- and built to last! There are two shirts specific to paddling and ocean sport in the line! What makes it unique is that they incorporated some of the latest technologies in sun protection and body cooling materials, and a number of team planet sun athletes contributed to the design and features- and, oh yes, it was all made in Hawaii!
…These guys have been at it hard for seven years now, and this is a major next step for their product line, as well as the future for suncare.
Here is the link to their Kick Starter campaign:
https://www.kickstarter.com/projects/planetsun/planet-sun-sun-protection-performance-clothing
Related posts