July 13th, 2015 by evan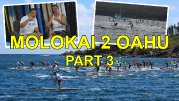 Here is the last part of our Molokai 2 Oahu episode. In this video, Robert and I continue our discussion on how to prepare for the Molokai 2 Oahu SUP race and talk about doing Hawaii Kai downwinders as part of training for the event. We also talk a little bit about how downwinders help people with ADD/ADHD (Attention-deficit/hyperactivity disorder).

Please stay tuned to Board Meeting, our new SUP show where we talk about all things stand up paddle surfing and racing.


(click thumbnail to launch video)
This show is presented by Evan from StandUpPaddleSurf.net and Robert from Blue Planet Surf Hawaii.
Related posts