July 18th, 2016 by davi
Connor wins his 7th Straight Victory
at the Maui-2-Molokai 28-Mile Crossing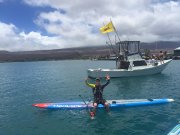 Connor's victory extends the longest winning streak in the men's sport. Not only has Connor never lost this race, but nobody else has ever won it. Connor took out the inaugural event as a scrawny teenager at 15 years old back in 2010, and he has triumphed every year since.

The 2016 Maui-2-Molokai Event was such an Epic race after racing in Flat Water for 6 weeks in Europe!
The first time I crossed this channel – I was 8 1/2 years old and I was windsurfing and I definitely don't plan on stopping any time soon.
The race started at 9:30 at Honolua Bay and there were a few heavy hitters on the line with me. Matt Nottage, James Casey, Livio Menelau, Vinnicius Martins and of course Travis Grant – who I was the most worried about.
We were all lined up and ready to go on the start line – and when the horn blew – we all hit the gas like it was a 10 miles race. Up at the front, we had about 6 or 7 guys pushing hard in the flat water – staying together. It took about 20 minutes until we hit some good bumps – so that's when I started doing my thing and pulling away from the group with Travis and Matt. The three of us stuck together for about 45 min and then Travis and I went into the next gear and pulled away from Matt and then it was a two man race.
Travis and I went back and fourth for the next hour – talking a bit – but both wanting the same thing. I knew the last part of the race would be lighter winds and possibly flat – so I just put my head down and went into my own world and started to surf the bumps. I just kept my eyes on the finish line and focused on winning my 7th title in a row on this run. The closer I got to Molokai the bumps started getting better and better – and I was in my happy place.
The next I knew I had a solid gap on Travis – but it wasn't over yet. I kept the hammer down all the way to the finish line – and crossed in First Place – in a time of 2 hours 58 minutes 51 seconds.
The conditions were not epic, but it was a really fun run nonetheless. And it was actually a particularly fast crossing. It was my 2nd time to do the crossing in under 3 hours – and only a few minutes shy of the 2:55:46 course record I set in 2012. So that just means I have to paddle harder next year!!
I want to thank my sponsors for all their support – Starboard, Dakine, Maui Jim Sunglasses, Futures Fins, Hammer Nutrition, GoPro, Garmin, UB Super, Waterman's Sunscreen, OnIt Pro and Hi-Tech Sports.
Also a big Mahalo to all the event organizers and all the volunteers. You know I'll be back next year to defend my title!
Aloha,
Connor Baxter
You can stay in touch with Connor:
Join his Facebook page https://www.facebook.com/connorbaxterathlete?fref=ts
Following him on Instagram http://instagram.com/conbax
Twitter https://twitter.com/ConBax
Subscribing to his blog http://blog.connorbaxter.com
YouTube channel http://www.youtube.com/user/baxconnor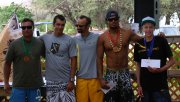 Inaugural Event 2010 – Connor 1st, Ekolu Kalama 2nd, Mark Raaphorst 5th, Livio Menelau 4th, David Kalama 3rd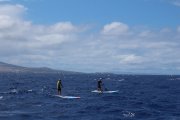 Connor & Travis talking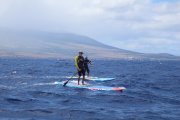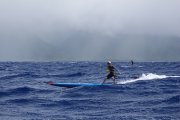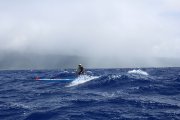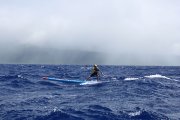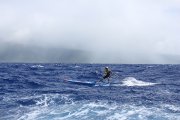 Related posts