October 23rd, 2007 by evan
Here's an email and pictures from Beau in Washington and his "Mastic Tape Paddle Potector" that I thought I'd share with you guys: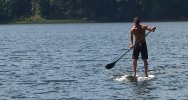 Hi Evan,
Thought I'd send some pics of SUP'n "Washington style".
I returned from a trip to Kauai in June where I saw so many folks doing SUP that I was hooked without even trying it. My first set up was an old wind surfer and a home made paddle I fashioned out of a kayak blade and an aluminum pole. Next I got a carbon paddle and then the epoxy SUP board. All my paddling consists of flat water and "down wind" stuff on Bellingham Bay (about 20 miles from Canada). My town is a huge mecca for kayaks, surf skis and outriggers so I fit right in, only so far I am the only one doing SUP. Right now I have to put on the full wet suit and booties but it is still awesome.
Thanks for letting a mainland haole borrow your sport!!
Beau Whitehead
Related posts