October 31st, 2007 by carnetw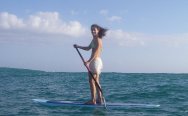 Had a great time this weekend dropping by Blane Chamber's "office" at Paddle Surf Hawaii to check out a batch of new stand up paddle boards that arrived from San Diego. The trip was not just to talk story, but to pick up a new stand up paddle board for Hampig. She was super excited to finally be getting her own board after using hand me downs for a while. As always dropping by and talking to a shaper like Blane who is sooo stoked on stand up paddle surfing is a great learning experience. We talked about new shapes, ideas and we even got a lesson on how to put on deck padding. The secret is cutting a 4 inch strip down the middle to center the pad and then slowly peeling each side once you are set on the size and position. Tricks of the trade for sure!
Putting on the deck pad . . .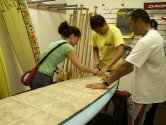 Happy Camper. . .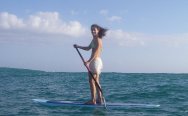 Related posts