November 3rd, 2007 by evan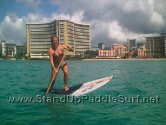 Since I missed the stand up paddle surf division finals in the HASA surf contest at Queen's Beach in Waikiki, Oahu, I paddled out past the break where I saw a bunch of stand up paddle surfers. It was a great day for first timers and it just brought back memories of my first attempt at stand up paddle surfing.
I've known Candice Appleby briefly since I see her surfing in Waikiki and at contests so I wasn't surprised that she beat all the guys and took first place in the stand up paddle surf division of the contest. Candice won on a Blane Chambers production 10′ stand up paddle surf board from Tropical Blends Surf Hawaii and a C4 Waterman hybrid paddle with carbon blade and wood shaft (which she won at the Duke's OceanFest contest in September).
Candice's dad was visiting from San Clemente, California so Candice took him out to try stand up paddle surfing for the first time. Her dad looks about 160-170 lbs and he put him on a 11′ x 26.5″ softtop which is extremely tippy. I let him try the C4 Waterman 10′6″ stand up board I was on along with my paddle and his progress was night and day.
I didn't get any video of the contest but I did get some cool shots of Candice pulling off some nice kick turns and some other first timers going through their learning curve. I even left in all the falling parts. Check out the video I shot to see for yourself.
Click here to see video of Candice Appleby and her dad stand up paddle surfing:


(click thumbnail to launch video)
Here are some pictures of Candice Appleby and her dad stand up paddle surfing:
Related posts