November 2nd, 2007 by evan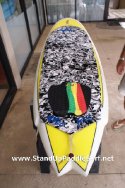 I visited Wet Feet and checked out the Brian Caldwell 9′4″ custom board — 27 inches wide and 3 ¾ thick. The board rides well on overhead waves and has a lot of interesting concaves and angles.
Doug explains more about the board on the video.


(click thumbnail to launch video)
00:00
Doug: This is a 9'4" I consider a short board.
Evan: Well, you're 9'4" rasta board.
Doug: Rasta board with rasta pad.
00:07
Evan: 9'4" by what?
Doug: This one is 27". It's a little narrow but it's good, like on calm days it's fine. The thickness is, again, this is 3 and ¾ thick. This one is pretty much like the 10-foot. It has got a slightly more pull and the other boards – it has a little bit fuller more for nose riding.
00:33
Evan: So this one is more for, because it's short you're going to step on the tail mostly and ride it on the tail.
Doug: Yeah, it's going to perform more like a short board than it would more of a traditional style 50/50 long board, short board. This would be more of an actual short board. Same fin set up as the other one. But this board has a single concave on the nose as opposed to the bottom there. This board was made actually earlier, about a month earlier, and the concave… there's like slight, a little slight, single concave right up to the middle, just for nose riding. As you notice here, the chime…
01:24
Evan Leong: That thing nose rides really well?
Doug: Nose rides really well, year. And the chime here is not extreme as on the other board. It's a little more subtle – more of a rounder edge coming back and then it starts here sharper. Not as sharp as the 10'0". A little bit more round – this gives the board just more of a neutral handling feel; doesn't feel as… it just wants to flow more. Because on a smaller board you can stand on the tail and just kind of flow with it kind of thing. Same five-fin set up, same fins as the other ones. We're running on the five-fin set up. The VFT one, the 5-12 tech foils and pretty much any quad set up works. It seems like the bigger quad fins seem to work a little better. It has a little more drive and a little more stability with the board.
02:24
Evan: And then, where would you ride this board normally?
Doug: This is like a hotdog board. So this is up to like four feet, Hawaiian scale – just about a little overhead and more, cleaner conditions, something you can just get on the tail and just do some turns.
02:40
Evan: How much do you weigh?
Doug: I'm about 170.
Evan: So you're mostly on 9-something boards then?
Doug: 9-something yeah. I like the 10'0" though because it has a nice balance of everything, a little bit of everything on it. It has a nice – you can flow with it. Nice to nose ride, tail ride; has a nice diversity as opposed to just the short board where it feels like you're planted on the tail most of the time. Until you get to a section you can ride the nose. The 10'0" is more reversible.
03:09
Evan: Ok. Cool. Anything else you want to say on this board?
Doug: Brian, you're a great shaper.
Custom Brian Caldwell 9-4 Stand Up Paddle Surfboard [3:16m]:
Download
Custom Brian Caldwell 9-4 Stand Up Paddle Surfboard [3:17m]:
Download
Related posts