November 22nd, 2007 by evan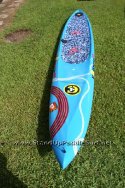 If you saw the post a while back for the stealth C4 Waterman stand up racing board you'll notice the resemblance to the Vortice XP. Basically, that was the Vortice XP. I got a sneak peek and demo on Wednesday with Todd Bradley from C4. I've got 2 words for this board – Super Fast.
I met Todd at the Outrigger Canoe Club at 5 pm so that's why the pictures and video are so dark. We did a short paddle from OCC to the base of Diamond Head and back. I have to be honest and say that even though it was only light winds, paddling upwind was making me tired. Actually, my feet were getting sore but that's a normal thing for me.
I got on the board and here's the thing. The C4 Vortice XP stand up paddle racing board is narrow. I think it's only about 26″ wide and the part in the water may even be an inch or 2 less. I didn't think I could stand on it but guess what, I could. In fact, except for one fall in the very beginning I didn't fall off the entire run except for one time trying to drop in a wave.
There are multiple Vortice's coming out from C4 and Boardworks and the one I rode is a custom carbon fiber model (Vortice XP) made by Karel Tresnak and the C4 guys. The board is super light…maybe 18 or 20 lbs or so.
The Vortice XP is the fastest stand up paddle board I've tried to date. It's faster than the F-16, IMO. It also feels more stable. This is how a stand up board should paddle and glide to me. Take a stroke or two and you're off. The glide is unreal.
I was so impressed with the speed and glide that I decided to drop in on real waves and not just ocean swells. I caught a wave from behind and paddled fast enough to catch it. That was unreal. Then I heard the whistle from Todd telling me to get out of the wave. What a rush. The board actually surfed ok for a 14′ board but it's made for racing, not surfing.
When we got back to OCC Todd let a few paddling buddies try the Vortice XP. All of them stood up and paddled right away and some of the guys looked 200 lbs+ just like me. The board is surprisingly stable, especially once you get moving. As you can probably tell, I want one but alas, they are not available yet.
I think these will be available sometime first quarter 2008 so if you want one you better place an order soon. Just like the OC-1 canoes there will probably end up being a wait list.


(click thumbnail to launch video)
Related posts