November 9th, 2007 by edgardo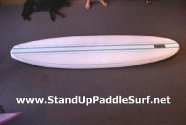 Check out the Blane Chambers 10′0″ production stand up paddle surfboard, which according to Tropical Blends is designed more for surfing but still paddles well. The board is very light as you can see from the video. The rocker is also pretty much emphasized, which makes the board loose and match the waves.


(click thumbnail to launch video)
00:00
Tropical Blends: This board is done by Blane Chambers and this is a 10'0". And this board is actually designed more for surfing than anything else. It paddles well but it is still more of a surfing board. And you can tell right away, this again is very light. We're talking very light. But you can see in the rocker in the board—it has got a little more tail rocker and it has got a little more nose rocker on it and that's an important factor. When I step here you can kind of see how much tail the rocker has, right? And that will loosen the board up on your turns and in the water—it sort of matches the wave. Then you got some real nose rocker too. You can see that this has got some nose rocker on it.
00:42
Tropical Blends: The board is 27 inches wide so it is quite a bit narrower than some of these others that we have. Blane has managed to build quite a reputation for his surfing prowess and his ability to design surfing boards. I have a lot of respect for Blane and I think the surfing side of things, specifically the surfing side of things, I think he is leading the pack basically. I think another one that is really good is Dave Parmeter. I don't actually carry any of his boards but he's another one who does a hell of a job.
Blane Chambers 10' Production Stand Up Paddle Surfboard [1:17m]:
Download
Blane Chambers 10' Production Stand Up Paddle Surfboard [1:17m]:
Download
Related posts