November 30th, 2007 by evan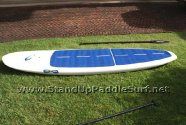 I got an Infinity Surf custom quad for my birthday in November and so far have only been able to test it in small surf. I've been playing around with the fin configuration since there are 5 fin boxes and this board rocks!
Rider: 34 yrs old; 6′ tall; 217 lbs (after Thanksgiving)
Rider Skill Level: Novice
Conditions: So far we've only tested the Infinity Surf custom quad in great conditions; Light winds and fairly glassy. The south shore has not had waves and I am not brave or skilled enough to take on 10 ft + north shore. Waves have been head high at the max and I've tried this board on the south and east shore of Oahu.
Description: This board is a custom shape by Steve Boehne of Infinity Surf. Steve's been around for decades, has a ton of tandem experience and his boards are famous worldwide. His specialty is big boards that surf unreal. The board is an epoxy layup with a polyester outer coat for shine. It is a little heavier than 10′ pop outs but it seems to help the board glide better.
The board has a wide nose and pulled in tail. The nose thins out and the tail is a bit thick. The tail is a diamond pin shape. There is a lot of vee in the tail behind the fins.
This board is 10′ x 28.5″ x 4.25″ and has downturned rails that get sharper toward the tail. There are 5 fin boxes to allow for a quad, twin or tri fin setup. The fin boxes are lockbox and this is the first board I've tried with them. It's interesting how the lockbox fin boxes allow small fins to move forward and back a few inches to get the right feel.
The board came with stock 5.5″ front fins and 4.5″ rear for the quad setup. It also came with a 4.5″ center fin which I've used as a tri fin setup in Steve's cluster pattern. The cluster moves the middle fin up close to the side fins and that allows the board to turn really fast.
Pros: This board is very stable for a 10′ board. I think it's due to the wide nose. It's a bit thicker than other 10′ers I've tried so it has no problem floating me. For a bigger guy it is very comfortable to stand on. The 5 fin boxes allow for a multitude of fin configurations for different conditions. I used the tri fin cluster setup for very small waves and the board turned like a short board. It was awesome to be able to make sharp turns on tiny waves and made the session more fun. This board paddles very nicely and does not yaw left or right with the quad or tri fin setup. It also glides pretty good and is very easy to catch waves.
Cons: The weight can be a pro or a con. It's a bit heavier than I will carry up and down the hill to Diamond Head but ok for most other breaks. The custom glass makes me not want to let beginners try it because I don't want them dinging it. The tail is a bit thick for my taste but so far it hasn't affected the performance. I don't like having an air valve to worry about but this one only needs to be removed and cleaned twice a year so no big deal.
Verdict: This is the board I've been riding the most recently because it is super fun to surf and very stable. As a custom, it can be fitted to your exact liking and the craftmanship is very nice.
Related posts