January 31st, 2008 by evan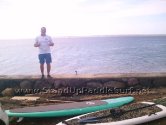 What do you do when the wind is 30 mph+ and the waves are blown side shore? You do a downwind run like we did. I called Todd Bradley in the morning of December 17 and asked if he was doing a downwind run because I wanted to try the C4 Vortice XP. Since the shipment of Vortice XP's are not here yet, they are closely guarded. I can't even get him to let me borrow it alone for fear I may damage it.


(click thumbnail to launch video)
Todd told me he was going to go around noon from Hawaii Kai to the Outrigger Canoe Club. That's the normal one man canoe and paddleboard race run which is roughly 8 miles. The fastest times on a stand up are under an hour. The wave forecast was 1-3' Hawaiian scale so it was expected to be bumpy. Todd's crew was a big one that consisted of Dave Parmenter, Rob Machado, Wet Feet guys Jeff and Doug and a few others. Everyone was on C4 Vortices or F-16's. There was no way I thought I could keep up so I just went with my other buddy on our own.
The tide was low and I was on my Tropical Blends Angulo 11'9" with a 9.5" fin. I must have hit the reef at least 8 to 10 times at the beginning and end of the run. I hope my fin box is ok. My friend rode his new Paddle Surf Hawaii 10'6" which is a much harder board for a distance run than the Angulo.
I was amazed at how fast we could move without paddling. The wind and waves were going in a perfect direction for us and you can see that in the video. About 15 minutes into our paddle my friend was about 20 feet outside from me and about 15 feet behind him I thought I say a large turtle's head pop up…wrong…it was a shark's fin. We watched it go by and luckily didn't turn around so we kept on going. The fin was about 1-2 feet tall outside the water. If it came at me I would have xxxx in my shorts so luckily it didn't.
When we got to Outrigger CC area we surfed for about 20 minutes when off in the horizon I saw a crew of stand up guys. It turned out to be Todd and his gang so I snapped some quick pictures and they were off. It turned out to be a great session.
Related posts