April 21st, 2009 by evan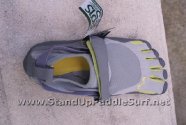 I just got my new Vibram 5 Fingers KSO shoes that I use for stand up paddle surfing. This shoes help me a lot to avoid foot cramps and the grip is very good.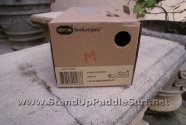 I got these from Tropical Blends on Queens St., go check them out. This pair is different from the previous ones I posted because there's a strap on the top of the foot and the foot is covered in a mesh like material.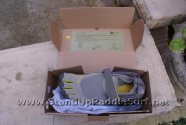 My new Vibram 5 Fingers KSO straight from the box.

I recommend purchasing one size smaller than you would normally have for walking. When using them on land, you don't want your toes to rub on the front of the shoes. That can cause blisters. But in the water, everything gets loosened up. This one is size 43 but the ones I use on land are size 44.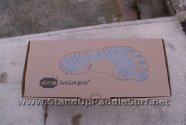 Vibram KSO still in the box

I tried it on and it fits just right from my toe to the heel. I used to have some problems with the old models because of the little side pocket that gets filled with sand. I always ended up spraying it out from the insole. This pair had the issue fixed.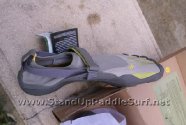 Sideview of Vibram KSO

The sole has razor cuts which adds extra grip. l also noticed the thickness on the sole of the Vibram KSO is more durable. It's much more resistant to sea urchin spikes going through the sole.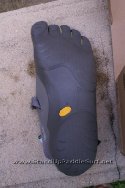 Non-slip rubber soles on Vibram KSO

These shoes have been great for me. I'll probably get my 4th pair soon.


(click thumbnail to launch video)


Related posts