April 23rd, 2009 by clarise
WHEN
Sunday, July 26, 2009, Start at 7:30am.
WHERE
From Kaluakoi on the west end of Molokai island, 32 miles across the Ka'iwi Channel to a finish line at Maunalua Bay Beach Park in Hawaii Kai.

THE PADDLERS
Defending men's and women's paddleboard champions:
Jamie Mitchell (Australia) & Kanesa Duncan (Hawaii).
Defending SUP champion: Duane DeSoto (Hawaii).
Team SUP: Gerry Lopez (Hawaii)  &
Jay 'Sparky' Longley, Jr.(Rainbow Sandals founder)
RECORDS
Men's solo paddleboard: Jamie Mitchell (Australia), 4:48:23, set in 2007.
Women's solo paddleboard: Kanesa Duncan (Hawaii), 5:53:49, set in 2004.
SUP solo: Kevin Horgan (Kauai), 5:54:59, set in 2007.
SUP team: Ekolu & David Kalama (Maui), 4:36:55, set in 2007.
Stock 2-man Team: Jimmy Austin & Dolan Eversole (Hawaii), 5:04:48, set in 2004.
The 13th Annual
RAINBOW SANDALS
MOLOKAI to OAHU PADDLEBOARD RACE
32 Miles Across the Kaiwi Channel
Sunday, July 26, 2009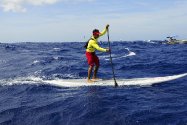 Above: SUP defending champion Duane DeSoto, Hawaii (Bernie Baker)
MOLOKAI TO OAHU PADDLEBOARD RACE WELCOMES NEW TITLE SPONSOR:
RAINBOW SANDALS
Prize purse Reaches Record $16,000
HONOLULU (Wednesday, April 22, 2009) – The 13th Annual Molokai to Oahu Paddleboard Race returns to Hawaii this year under the proud new tutelage of Rainbow Sandals and with the keen support of Honolua Surf Co., Maui Jim, Duke's Waikiki, and C4 Waterman.
This long distance open-ocean race for stand-up (SUP) and prone paddleboarders is considered the world championship of the sport and draws a field of more than 100 paddlers from around the world each year. This year the stakes are higher than ever with a record prize purse of $16,000 on offer. The first solo paddleboarder and the first solo standup paddler will each receive $3,000.
Solo men and women, as well as two-person teams, make the arduous 32-mile paddle across the storied Molokai (Ka'iwi) Channel in pursuit of paddling's top honor. Along the way they will have to battle tough seas, summer heat, physical and mental limits, and each other.
"We are very honored to be sponsoring the world's most prestigious paddleboard race," said Jay 'Sparky' Longley. "Supporting this race across the Kaiwi Channel is a natural for Rainbow Sandals because participating in the modern waterman's lifestyle is an exciting part of what we are about today.
"Hawaii offers such an awesome natural arena for this great race. There's no other place like it and we are so thankful to the Hawaiian community for their continued support and enthusiasm."
Rainbow Sandals launched out of Southern California in the early '70s. One of the company's first ambassadors was Hawaii's own Gerry Lopez, who still sports his "Rainbows" to this day. Lopez popularized the Rainbow Sandal throughout Hawaii and the world during his travels as one of the most influential surfers of the time. They rapidly became a hot item for surfers and over the years have worked their well-worn way into into the "must have" casual ensemble of beach lovers around the planet.
Rainbow Sandals broke onto the paddling scene last summer, debuting with the $25,000 Southern Californian Rainbow Sandals Gerry Lopez Battle of the Paddle. The success of the event was astounding with more than 300 paddlers entering the 4.5-mile ocean circuit course.
Rainbow Sandals is a privately owned company out of San Clemente, California, founded more than 35 years ago by Jay 'Sparky' Longley Jr., who grew tired of seeing broken sandals littering the beaches. He vowed to come up with a sandal that would be long lasting and comfortable. The result was a soft sponge-rubber sandal that rapidly gained a reputation of comfort synonymous with the easy going beach lifestyle it was born out of.
RACE INFORMATION & RULES
Mike Takahashi, Race Director, (808) 638-8208
www.hawaiipaddleboardassociation.com
MEDIA INFORMATION
Jodi Wilmott, Ocean Promotion, (808) 258-8533
oceanpromotion@hawaii.rr.com
Related posts