April 12th, 2009 by clarise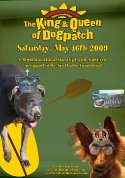 The King and Queen of Dogpatch will be held Saturday May 16, 2009 at San Onofre State Beach. This raucous and hilarious stand-up paddleboard (SUP) surf contest will directly benefit the newly formed San Onofre Foundation.
The best stand-up paddleboard surfers from California and Hawaii are anticipated to join local standouts at Dogpatch to surf it out for the King and Queen crowns.

"Having fun is what this event is about and we are going to stumble upon our king and queen. Surfers in this contest will have to display more than pure surfing and paddling ability. They are going to have to show panache and aloha in their style."
"The event celebrates the Dogpatch and our growing sport. And it's a chance for us to do something nice for the beach through the San Onofre Foundation" says Rainbow Sandals owner Jay "Sparky" Longley.
The King and Queen of the Dogpatch SUP surf contest is open to everyone. There will be novice and advanced divisions for both men and wahines. Finalist in each division will receive royally commemorative awards and an overall king and queen will be crowned. The event takes place May 16 with first heat in the water at 7:00am. For event entry information go to rainbowsandals.com.
Dogpatch is a well-known paddle wave and family area for San Onofre surfers. It is located at the far south end of the San Onofre State Beach surfing area. The towers of the San Onofre Nuclear Generating Station are near by.
For more information:
Event Director: Barrett Tester
Tel. (949) 276-4431×216
Events@rainbowsandals.com
To download the entry form entry_form_Dogpatch-promo
Related posts