April 9th, 2009 by clarise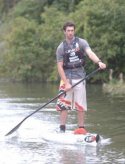 This weekend the famous Devizes to Westminster Paddle Race gets under way, but this year there are two notable stand outs from the crowd of kayakers and canoeists. John Hibbard and his training partner Anthony Cooper are set to make history as the first Stand Up Paddlers ever to enter the race.

After months of training John and Anthony will be covering up to 38 miles a day over 4 days in order to make it to the finish line at Westminster Bridge on Easter Monday. The duo are the first SUP riders to be allowed in to the race.
John Says:
"I like a challenge, which is good as this Ultra Marathon is certainly going to test our stamina. I'm excited by what lays ahead of us. At the end of the day it's all about the training we have done and hopefully we have done enough. The organizers were wary of letting us enter but hopefully we can show them how great SUP is. SUP is so accessible. It's easier than most other paddle sports, but in my eyes twice the fun. I'm really enjoying breaking new ground on my SUP board, whether that be riding waves or taking on huge distances. If we make it through this event then who knows what is next!"
"A big thank you to my sponsors for this race – Starboard, Fat Face and Go Fast Sports"
Anthony says:
"I don't know how I let John talk me into this race to be honest! Actually though we are feeling pretty fit and I can't wait to get started
John will be using the Starboard K15 paddle board and Anthony will be using the Starboard Point 14′8″ Paddle Board. Both will be using Starboard Carbon Paddles.
You can follow John and Anthony throughout the race with regular updates on Twitter – search for John_Hibbard and click Follow. There will also be a daily update on the General Forum at www.standuppaddlesurf.co.uk – click on Forum and select General Forum.
More information can be found here:
www.star-board-sup.com
www.fatface.com
_______________________________
K 007
John Hibbard
2008 UK SUP Distance Champion and Vice SUP Surf Champion
2007 UK National Wavesailing Champion
Sponsored by:
Tushingham Sails, Starboard, Fat Face, Neilson Active Holidays, Go Fast Sports, Nissan GB, ActionVan / www.k007.co.uk
Related posts