January 11th, 2009 by clarise
Here's an update from Starboard Team Rider, John Hibbard, all the way from UK.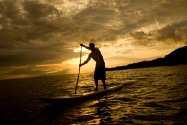 After winning the UK Distance title in 2008 I started thinking about some longer distance paddling. Most of our races were between 4-8 miles. I quite fancied trying to do some much longer paddles. Then one day while doing a bit of internet research I came across the Devizes to Westminster Canoe and Kayak race. This is the world's longest race for canoes. 125 miles in total spread across 4 days. This looked like just the ticket. In fact it was a fair bit longer than I was actually thinking of, but it would be an amazing challenge.

I started doing some more research. The event runs from the town of Devices to the seat of the British Parliament on the banks of the River Thames in London. The first half of the race is on canals (originally built as a means of moving heavy loads around the country by barge) and the second half of the race is on the Thames itself – tidal and potentially very choppy.
My initial communication with the organising committee was met with some confusion as to what I was actually planning on paddling – they'd never heard of SUP. After a few emails and a chance meeting with the outgoing chairman they have agreed to let me enter. There are a number of qualifying/training races that start in February and build up from 17 miles through to 34 miles. The organisers are still a little wary and want to use this year as a test with just myself and my training partner entering on SUP boards. If that goes well then I think it could allow more people to do it in the coming years.
So, in order to paddle 125 miles over 4 days in conditions ranging potentially from snow to scorching sunshine (April in the UK is famous for being a time of random weather) the training is going to have to be pretty full on. To be honest we probably should've started already, but various factors have got in the way. We start this week. The first few long paddles will be a good tester. I don't even know if it's possible to paddle quick enough to make the check points in the race. Early testing has said it will be, but that's over short distances!
It's exciting times. We don't plan to fail, but this next month of training will be crucial. By this time next month we should have a better idea of how we are faring. Watch this space for more info.
John
Sponsored by:
Starboard, Fat Face, Neilson Active Holidays, Go Fast Sports, Nissan GB,
ActionVan
We'll hear more updates and see more photos from John in the coming weeks.
Related posts