March 23rd, 2015 by davi
By Georgina Stubbs, Southport Visiter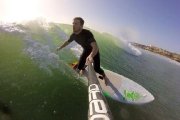 Alan Taylor
Three stand up paddleboarders from Southport have been selected to represent a leading watersports brand.
Co-founders of resort-based SUP North, Alan Taylor, Lucy Pearce and Simon Dunton, are the latest members to join the Starboard SUP 2015 team.

The trio, who have just held Southport's first ever stand up paddleboard race on Marine Lake, said they are delighted with the latest development and are honoured to join the team.
Alan, 37, from Birkdale told the Visiter: "The three of us getting selected is really good for Southport, there weren't any team riders in the north west before hand – so for our area it is fantastic. It is just really nice and we are very honoured.
"And what is great is that there isn't any pressure to race or compete – but we probably will."
Originally from a kitesurfing and skateboard background Alan broke his hip in the summer of 2012 and was unable to walk for six months.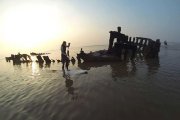 Lucy Pearce, by a shipwreck at Formby Point
He said: "Early in January 2013 I purchased my first inflatable stand up paddleboard as a way to keep fit and get back on the water I love. Within weeks I had met Simon and Lucy and we formed a business, SUP North to bring people into our new found passion.
"Over time my injury healed and I was able to cover long distances and have great adventures with the SUP North team. I have become obsessed with the surf side of our sport and all three of us can often be found chasing down waves on our latest carbon surf boards.
"I am delighted that we have been chosen to represent Starboard sup in the UK as it's a brand we all believe in, with its love of innovation and quality we can be sure whether on flat water or waves, we will have the best equipment to be able to push our riding to that next level."
Lucy, 37, who lives in Southport said: "Having discovered stand up paddleboarding in 2012, as someone who wasn't confident in the sea or even the swimming pool, I've never looked back.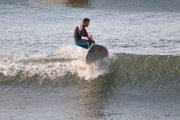 Simon Dunton
"It's taken me to islands, lakes, rivers, coves, caves, shipwrecks, races, beach & reef breaks, clubs, an aqueduct and an oil rig!
"We formed SUP North as a way to spread our passion for SUP and get more people paddling, and we love sharing our obsession.
"Joining the Starboard UK team is a great honour and reward for what we've achieved so far, and one that will motivate me to paddle more and better, invest more time into introducing people to our amazing and versatile sport, and plan even more social paddle sessions, exploring and road trips."
Simon, 34, who has recently moved to Saltburn in Yorkshire said: "It's definitely going to give me that extra push to take my skills to the next level in all aspects of SUP and I'm both proud and excited to be part of the Starboard Team, SUP North and the growing SUP scene in the UK."
For more information about SUP North, their products or lessons visit www.supnorth.co.
Related posts