February 5th, 2009 by evan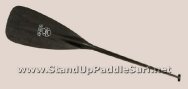 Werner Paddles recently unveiled new innovations in its Stand Up Paddle range at the Surf Expo Trade Show in Orlando Florida. The Werner Nitro is a smaller, Performance Core, carbon paddle and the new Adjustable 3-piece shaft which can be found on all of the SUP models.
I've been using the prototype Werner Nitro SUP paddle for a number of months and absolutely love it. I've been cutting the width of other paddles down to get to the feel I like and this one is light years ahead of my 'hack jobs'. It's interesting that with such a narrow blade I still get enough propulsion and it's very easy on my joints and shoulders. I'll do a more thorough review on this paddle later.

The new Werner Nitro has a carbon blade with a foam core, which adds buoyancy for effortless paddling, and comes with an all carbon shaft. The longer narrower blade is perfect for dynamic surfing, quick turning and lends itself to higher cadence paddling. The carbon shaft is indexed, adding comfort control and is light weight. The Nitro comes in at just 20 ounces for a 78" 1-piece paddle. Get in line now because the Nitros' initial reviews have been stellar. The Nitro starts at $299 and will be available at Werner Paddles dealers in April 2009.


the Nitro face

Another innovation from the folks at Werner is the Adjustable 3-piece paddle. The top piece telescopes its length and locks in at four settings, each 1.5 inches apart. This is great for moving between touring/cruising (a little longer) and surfing (a little shorter) or sharing with a friend (you'll tell them to get their own soon enough). The shaft also takes apart closer to the blade, creating the ultimate travel paddle. The Adjustable 3-piece paddle will brake down easily to pack into your carry on luggage. "We got a lot of request for a smaller break down paddle for traveling. Many people are happy to rent a board when they travel, but want their trusty Werner Stand Up Paddle when they are on the road", says Jim Miller, Werner Paddles Marketing Manger.


the Nitro full

The full range of Werner paddles now come in four shaft configurations. 1-piece; the lightest weight option and best value. 2-piece; which takes apart with push button ease, a great choice for those who travel with their paddle. Adjustable Length 2-piece; with four telescoping lengths for those who move between touring and surfing. The NEW Adjustable Length 3-piece; combines the telescoping feature and the take apart travel feature in the ultimate traveling paddle.
Werner Paddles is the leading manufacturer of high quality kayak, canoe, and stand up paddles, operating near the banks of the Skykomish River in Sultan, WA. For more information call 800.275.3311 or visit us at www.wernerpaddles.com
Click here to download the PDF brochure
Related posts