August 23rd, 2012 by davi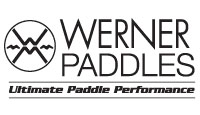 Werner Paddles Introduces River Running SUP
Werner Paddles has added a river running specific stand up paddle (SUP) to their line. The Stinger has been designed from the ground up for the rigors of the whitewater environment. Werner has been handcrafting paddles in the US for over 45 years and has over 80% market share in the whitewater kayak market. They have taken this heritage and melded it with the sport of stand-up paddling to create the Stinger.


The Stinger features a Full-sized Premium fiberglass laminate blade that gives you power when and where you need it most. The blade has a narrow tip for a soft catch and allows you to stab precisely to avoid rocks; the blade then flairs to offer more power through the midpoint of the stroke. This unique shape provides positive bracing. The fiberglass shaft adds comfort, control and is lightweight and durable and offers an ABS palm-style grip for great fit and controlled strokes.

(click thumbnail to launch video)
The Stinger is offered as a 1-piece for the lightest and most durable configuration, 2-piece offers adjustability (shorter for running down river and longer for the flat paddle out) and 3-piece for adjustability and breaks down for easy packing (perfect with inflatable boards).
"As the sport of SUP continues to mature, Werner meets the needs of the market with products specific to the sub-disciplines of SUP as they develop. Earlier this year we launched the Grand Prix race series of paddles and now we bring you the Stinger; a river running specific design," says Jim Miller, Werner Paddles Marketing Manager.
Werner Paddles is the leading manufacturer of high quality kayak, canoe, and stand up paddles, operating near the banks of the Skykomish River in Sultan, WA. For more information call 800.275.3311 or visit us at www.wernerpaddles.com
Related posts