October 25th, 2010 by evan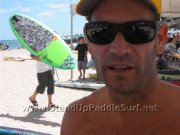 I had the opportunity to check out the Quickblade tent at the 2010 Battle of the Paddle Hawaii. Jim Terrell, founder of Quickblade, showed me their latest racing paddle, the Quickblade Magic DSI 28. It has an interesting design where instead of having a flat paddle surface, the Magic DSI 28 has 'dimples' like a golf ball. This surface, according to Jim provides more 'grip' when paddling and may allow for a smaller blade.

I first saw this paddle at the beginning of summer when Scott Gamble was testing it out. I haven't tried it myself but it looks pretty interesting.
Here's a video of Jim with more info on the Quickblade Magic DSI 28:
The Quickblade Magic DSI 28 Stand Up Paddle



(click thumbnail to launch video)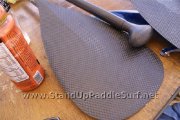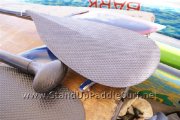 Jim also showed me their entry level paddle, the Quickblade Sweeper. This is their entry level paddle and I was surprised how light the fiberglass shaft and plastic blade was.
Video of Jim Terrell with the Quickblade Sweeper below:
The Quickblade Sweeper Stand Up Paddle



(click thumbnail to launch video)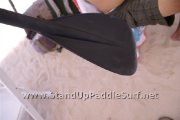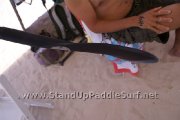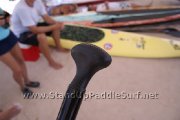 Here's more info on the Sweeper Stand Up Paddle from Quickblade's site:
Sweeper
Made with the entry level paddler who wants to test the waters first, the sweeper has an extremely tough aluminum shaft and an invincible, reinforced plastic blade that's ideal for ease of stroke. The blade can also be appropriately sized for children or adults and anyone in between. And you can choose from a variety of custom colors. Plus, it has all the same, thoughtful design that goes into each of our Kanaha paddles – from grip to paddle. So not only is it rugged, lightweight and easy to use, but its also lightweight and easy on your wallet.

Standard Features
- Polycarbonate
- Aluminum Shaft
- Palm Grip
- Dihedral Edge

Specifications
SIZE: SMALL
Blade Length: 16″
Blade Width: 8.3″
Weight: 28 oz.
Blade Area: 90 sq. in
Angle of Blade: 6°
Related posts