March 22nd, 2010 by evan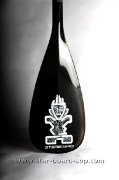 Margareta Engström, Starboard's marketing manager, sent us these photos and info of their carbon stand up paddle lineup for 2010.

The Power of the Paddle

The paddle is the connection between your human power and the water.

The angle of which the paddle blade runs though the water with each stroke and the size of the blade largely dictates the power efficiency of each stroke and how much you can trust your blade. With a well balanced paddle blade moving straight through the water , little energy will be lost . The size of the blade can be compared to the gear of a bike, the higher the gear or the smaller the blade, the less effort each stroke takes. The lower the gear or the bigger the blade, the more energy will be used and the more forward motion will be activated. For long paddle session or for lighter people, a smaller blade is recommended.

Introducing the Flex Measurement System FMS

The reflex momentum of the paddle shaft is crucial as a paddle with good flex and high rebound characteristics will provide better speed and less muscle ache. Starboard has carefully selected carbon shafts with the optimal stiffness, deflection and extra high rebound numbers to maximize the power potential that each stroke presents, yet ensure the durability required for heavy loads when used in surf. The blades are foiled to move real straight through the water and are available in 6 sizes measured in CM2 to meet your specific power request.
Enduro Carbon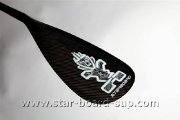 A well balance blade design with a medium strong dihedral providing stability and power, available in 4 sizes for different power requests. Designed as a multipurpose paddle for waves, flat water and racing.
Each Carbon blade is hand laminated around PVC foam to reduce weight. The rails are carefully inlaid with ABS for durability.
The light and responsive Starboard carbon shafts are built not only to perform with great rebound cartelistic, but also to last.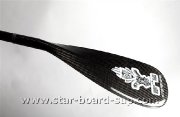 Enduro 430
Blade Length: 38.5 cm
Blade Width: 20.5 cm
Area: 430 cm2
Shaft flex: FMS 50
Length: 216.5 cm
For paddlers under: 50 kg
Enduro 475
Blade Length: 41 cm
Blade Width: 20.5 cm
Area: 475 cm2
Shaft flex: FMS 50
Length: 219 cm
Enduro 525
Blade Length: 43.5 cm
Blade Width: 20.5 cm
Area: 525 cm2
Shaft flex: FMS 50
Length: 221.5 cm
Enduro 550
Blade Length: 46 cm
Blade Width: 20.5 cm
Area: 550 cm2
Shaft flex: FMS 50
Length: 224 cm
Power Carbon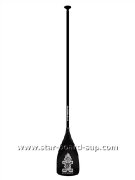 For strong paddlers wanting maximum paddle power in each stroke. The Power paddle provides extreme acceleration and is well suited for a quick take off in wave sections needing that extra forward motion.
Short flat water sprints is another strenghts of this very well balanced blade which delivers an clean and sharp paddle sensation.
Blade Length: 47.5 cm
Blade Width: 23.7 cm
Area: 670 cm2
Shaft flex: FMS 50
Length: 225 cm
Wave Carbon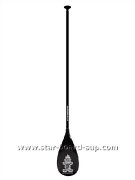 The popular large blade for fast acceleration in waves. The forgiving rounded blade also provides a lot of surface to lean on during maneuvers on the wave face.
The Wave blade sports a slightly rounded profile to enhance stability in each stroke.
Blade Length: 46.5 cm
Blade Width: 23 cm
Area: 600 cm2
Shaft flex: FMS 50
Length: 225 cm
Adjustable Paddle Option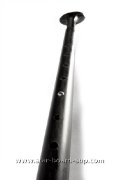 Starboard additionally offers the whole Enduro range with an adjustable carbon handle/shaft solution. The shortest setting at 5′/153 cm to longest setting at 6′/183 cm. 7 different positions with 1.5″/3.8cm between each position. Share the paddle with a friend and tune it into wave or flat water mode.
Handles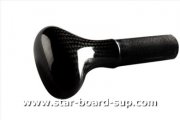 As an upgrade the premium lightweight Carbon handles are available upon request. Starboard delivers high traction injection molded handles as standard.
Related posts