March 24th, 2010 by davi
March 24, 2010 (Santa Cruz, CA) – The best in the world will migrate to Santa Cruz, California this Friday to battle it out at Steamer Lane. The natural stadium venue is one of the most unique locations on earth for both competitors and spectators alike.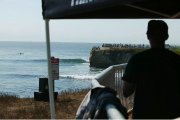 Returning to defend his Surftech Shootout title, Dana Point's Chuck Patterson is fired up about the solid swell forecast to unload on the Lane this weekend. "Last year's Surftech Shootout was really well run and the competition was formidable." said Chuck "This weekend the forecast is calling for a double to triple overhead WNW swell so the real challenge will be whether to sit on Middle Peak and wait for bombs or hope for a few lined up bowls at the Point."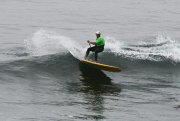 Other returning 2009 competitors include Hood River Oregon's Dan Gavere, and last year's runner-up, Surftech GM, John Griffith. "This year's been all-time here in Santa Cruz." confessed Griffith. "This weekend's Surftech Shootout should be no exception. There's no doubt that the Lane will deliver the goods. I'm stoked to compete against many of the best stand up paddle surfers in the world at a wave that was tailor made for hi-performance stand up paddle surfing!"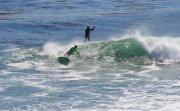 The 2010 Surftech Shootout will see a host of new "Gunslingers" throw their hats in the ring for the coveted Shootout title. Seasoned SUP surfing veterans from around the country including Lahaina Maui super grom Zane Schweitzer, who took 6th place at the Noosa Surf Festival in Australia last week and LA's big wave sensation, Wade Lawson along with a many others will challenge each other for the right to stand atop the Surftech Shootout podium.
For more info and up to the minute contest updates, follow SurftechSUP's twitter feeds or check out the SurftechSUP facebook page.
For more info contact:
Duke Brouwer
Surftech Marketing
831-479-4944
duke@surftech.com
Surftech on facebook & twitter
Related posts