March 27th, 2010 by davi
March 27, 2010 (Santa Cruz, CA) – As promised, Steamer Lane did not disappoint in round one of the 2010 Surftech SUP Shootout! With clear skies and solid head-high sets rolling through, the competitors wasted no time in taking advantage of having the Lane all to themselves.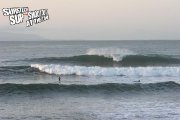 Defending champ, Chuck Patterson (below) came out strong in his title defense and posted the top score of the day with a 57, while Mike Roberts, of nearby Pacific Grove, surfed his way to second overall with a 55 and sitting in third place is 16 year-old Maui phenom, Zane Schweitzer.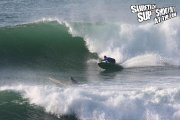 Round two begins this afternoon at 3:40pm. Check the heats at SurftechSUP.com. Click here to see all of the results from round one.
Stay tuned to SurftechSUPs facebook page and twitter for more updates.
For more info and up to the minute contest updates, follow SurftechSUP's twitter feeds or check out the SurftechSUP facebook page.
For more info contact:
Duke Brouwer
Surftech Marketing
831-479-4944
duke@surftech.com
Surftech on facebook & twitter
Related posts