March 25th, 2010 by evan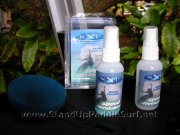 I recently got my hands on some Surf Nano Product Board Enhancer and decided to try it out. Garry, the Jimmy Lewis distributor said I had to try it and that it was working great for riders in the mainland. The Surf Nano is a 'Board Enhancer' kit which comes with a bottle of 'Board Cleaner', a bottle of 'Board Enhancer', an applicator pad, microfiber finishing towel and usage instructions.
At first, I thought it was going to be a pain to apply since the enhancer needs to cure for an hour. Fortunately, I was wrong. The application process is pretty easy. Here's the steps.
First you clean the bottom of your board with the 'Board Cleaner'. Wipe off then let dry for a few minutes then apply the 'Board Enhancer' using the applicator pad and let dry for 1 hour. After that just wipe off and you're good to go. The first time I did it, I only let it dry for 20 minutes or so because I got anxious and wanted to see how it worked. The second time, I let it dry for over an hour and most of it seemed to get absorbed by the board. There wasn't much left to wipe off.
Note: Make sure you apply this in a ventilated area or outdoors because there is a strong smell from the product.
Check out this video where I use the Surf Nano products on the S.I.C. F-16 V2:


(click thumbnail to launch video)
I also tried out the SNP on my C4 Sub Vector 10′ and 9′6″. I didn't do any scientific speed tests so I just have to give my opinion based on my feel. It felt like it worked best on the C4 Sub Vector. I'm not sure why, but it felt like it made the board more 'slippery'. I put it on my F-16 v2 but I didn't have any previous runs to compare it to. I like the fact that it makes the board easier to clean off but I think there needs to be A/B type testing to get more accurate results. The SNP team sent over some tests they did in a more controlled environment so maybe they can chime in the comment area.
Just for fun, I used the SNP on my sunglasses and it works really well in repelling water. It actually works much better than RainX. I'll definitely keep using it on my sunglasses. This may also be a good solution for guys who fish a lot for their sunglasses. I also used it on my paddle but it's hard to tell the impact on a paddle.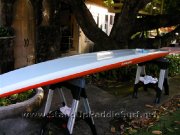 Testing the Surf Nano Products on the S.I.C. F-16 V2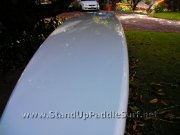 The board bottom is now clean and shiny after using the cleaner and applying the "Board Enhancer"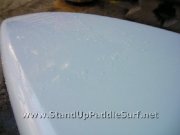 Water beads up and slides off the board
I know there are some guys that swear by this stuff so maybe we can get more insight in the comment area. If you have experience with SNP, please comment.
Related posts