October 13th, 2010 by evan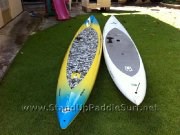 After spending some time training and going on a few downwind runs with the S.I.C. Bullet 17′4″, I decided to shoot this video and share my thoughts on how the Bullet compares with the S.I.C. F-16 V2. Mark Raaphorst covered some of this in the video we shot with the Bullet earlier. I thought a visual where you can see the differences with the boards side by side would be helpful.



(click thumbnail to launch video)
The video has a detailed overview so I'll make a short list here for those that are deciding between these two boards.
Bullet 17′4″
Planing hull shape with lower rocker and round edges
Thicker than F-16 v2 (v2)
Takes more muscle to get moving than v2
Has longer following glide than v2
Less stable than v2
Better in wider troughs and smaller bumps than v2
Faster overall average speed in sub 20 mph winds
Less agile than v2
F-16 v2 16′
Planing hull with sharp edges
Surfs better than Bullet
More fun in 20+ mph winds than Bullet
More stable than Bullet
Lighter than Bullet
Less effort than Bullet to get up to speed
Easier to catch bumps when wind is at least 15 mph
Lower price
Both of these designs are made for catching bumps in open ocean conditions. For flat water and touring I'd go with the F-18, X-14 or S-16 Standamaran.
When it's windy (20+ mph), I prefer the v2 because it's more fun and allows more surfing. It also handles closer troughs and bigger bumps better. The v2 catches bumps with ease and little effort. In winds between 10 – 20 mph, I prefer the Bullet because it has a longer following glide and allows for longer connections between bumps. Both of these work well on our Hawaii Kai run.
Related posts