October 12th, 2010 by davi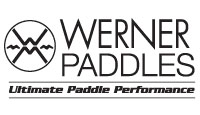 Werner Paddles has lunched a new Bent Shaft Stand Up Paddle aimed squarely at the fastest growing categories of Stand Up Paddling, cruising, fitness and racing.
"Our new Bent Shaft SUP is the best choice for dedicated paddlers who want to gentle to their bodies while getting more power for the same amount of effort," say Jim Miller, Werner's Marketing Manager.

Launched this last September Werner's Bent Shaft SUP's are available on their most popular Performance Core paddles the Nitro and the Fuse.
There are several benefits to the Bent Shaft. First, the bend in the shaft creates a stable leverage point during paddling which increases comfort and control. The natural alignment of the wrist reduces strain and fatigue, allowing you to pull much harder with less chance of injury than with a straight shaft.
The bent shaft in conjunction with blade dihedral creates a super stable and smooth paddling paddle with absolutely no flutter. All of this is going to allow paddlers to spend more time on the water.
The bend in the shaft increases the catch. (The catch phase is the beginning of the stroke where the majority of the paddlers power comes from.) The Bent Shaft allows you to reach further forward and therefore get more power from each forward stroke. What this means is that you are getting more power for the same amount of effort.
Werner recommends their bent shafts for cruising, fitness paddling, running down wind or racing. They do not suggest paddlers use them in surf.
Werner Paddles is the leading manufacturer of high quality kayak, canoe, and stand up paddles, operating near the banks of the Skykomish River in Sultan, WA. For more information call 800.275.3311 or visit us at www.wernerpaddles.com

(click thumbnail to launch video)
###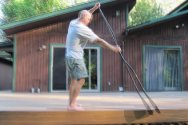 Werner Paddles Director of R & D, Andy Bridge, took this image to illustrate the increase in catch that you get from using Werner's new Bent Shaft SUP's. He used the same length paddles for this demonstration. It really shows the dramatic difference between the bent shaft and straight shaft at the catch of a stroke. The catch phase is the beginning of the stroke where the majority of your power comes from.
We are hearing great feedback from the field that paddlers are definitely faster with the bent shaft, and at the same time they are reducing overuse injuries due to the natural alignment of their wrists. This wrist position reduces fatigue and allows more hand to shaft contact for increased control.
Thanks Andy for putting this together.
Related posts