May 11th, 2012 by davi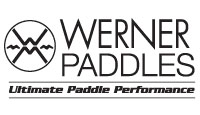 Werner Paddles Announces New Race Specific SUP
Werner Paddles has developed the first Stand Up Paddle designed from the ground up specifically for training and racing.
The Grand Prix utilizes Werner's proprietary Performance Core technology to create the lightest weight SUP on the market. Paddlers can choose between three blade sizes allowing them to match their power and board glide. The narrow blade profile allows the blade to travel close to the board for an efficient forward stroke. The blade to shaft offset has been optimized at 12 degrees which allows for more power at the beginning of the stroke and less lifting of water at the exit.

(click thumbnail to launch video)
The Grand Prix will be offed in both Straight Shaft ($389) and Bent Shaft ($465). The Bent Shaft, which is unique to Werner, allows for even greater reach at the catch phase of the stroke and aligns the paddlers wrist to limit fatigue.
A carbon Palm-grip finishes the paddle off for additional weight savings.
"Dealers first got a peak of the Grand Prix Series of paddles at last summer's Outdoor Retailer trade show and have been clamoring for it since that time. We are stoked to be shipping the Grand Prix paddles to our dealers now," says Jim Miller, Werner Paddles Marketing Manager.
Werner Paddles is the leading manufacturer of high quality kayak, canoe, and stand up paddles, operating near the banks of the Skykomish River in Sultan, WA. For more information call 800.275.3311 or visit us at www.wernerpaddles.com
Related posts