March 19th, 2010 by evan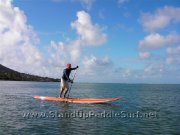 The F-16 v2 is the best F series board I've ridden to date. After the first Hawaii Kai run, I decided that the F-16 v2 was the best planing hull F series board I had tried but after 3 sessions in various conditions I now think that it's even better than my F-18. The board is stiffer and doesn't have that warble feeling when riding. It catches and connects bumps with little effort. I think the F-18 may still be better in 15 mph and under winds but at 15 mph it's gonna be close.
Watch this short video shot during February 2010 Kihei, Maui downwinder.


(click thumbnail to launch video)
The F-16 v2 is:
Stiffer due to autoclave construction resulting in less warble, smoother ride and less speed loss from flex.
Better volume distribution keeps my feet dry and feels like more than enough volume to float my 205 lbs.
The 'Aladdin's shoe' nose rocker allows the board to fit in a shorter trough and allows the nose to lift over the wave in front instead of poking through it.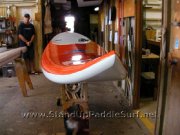 The F-16 V2's nose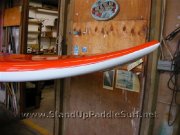 The nose rocker
The board gets up to speed with little effort and the continuing glide allows much easier bump connection.
I had my best time so far on this board last Monday.
The foot pedal is now adjustable on the fly which allows real time adjustments.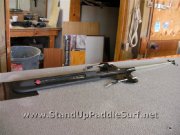 Re-designed adjustable steering pedal
The air vent is now screw in so it can't pop out during the run.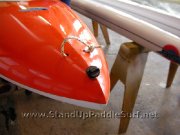 New screw-in type vent plug
Here's Mark Raaphorst, the creator and shaper to explain the fine details of the F-16 v2:
Part 1



(click thumbnail to launch video)
Part 2



(click thumbnail to launch video)
The first day I rode the F-16 v2 was my fastest time to date. The conditions were good, 20 to 30 mph winds and a good tide which helped. The real kicker was when my 3 friends that I let try the board decided they had to have one and placed an order for the May 2010 shipment. If you want one of these you should contact Mark or Karen at 808-877-7728 or the SIC website www.paddlemaui.com. The shipment arriving in May has less than 10 available out of 20 being shipped. They are all pre ordered and moving fast.
Related posts