April 30th, 2010 by evan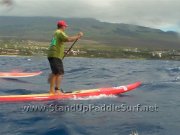 I'd like to give a big "THANK YOU!" to the crew in Maui for letting me tag along with them for a couple downwinders. Mark Raaphorst, Randy Strome, Jack Dyson, Livio Menelau, Chris and Donna. Also, thanks to Pono Bill for letting me use his leash. Coming from Oahu, I thought we were spoiled (and we are) with great surf and trade winds. I was blown away by how awesome Maui is for downwinders.



(click thumbnail to launch video)
Our optimal winds for the Hawaii Kai to Waikiki run is East/Northeast trade winds. When they blow hard, it makes the run that much better. A 15-25 mph day with a good tide seems to be ideal on Oahu. When the winds crank at 25 mph and up like it did a couple weeks ago, we're in downwind heaven.
On the other hand, when the wind comes straight North, it blows offshore and then becomes a headwind a little over half way. Beginners tend to get blown out to sea and then have to struggle to paddle back in. If you're on a non rudder board and don't have it dialed in, those days are torture. This brings us now to my Maui experience.
When the wind blows straight North, Kihei to Makena becomes an unreal run. I don't live in Maui and don't have a lot of local knowledge but I was blown away by how awesome the Kihei run was during straight North winds. To me, with a 15-20 mph wind at our back, knee to waist high swell and a great group of paddlers, I felt like I was in downwinder paradise. Awesome, is an understatement and I haven't even experienced Maliko on a good day yet.
The trust factor in Maui is very high. I was surprised that the guys just left their equipment on the beach at the canoe club while dropping off a car in Makena. We would never do that on Oahu. That was nice, like old time Hawaii.
What's even more impressive than the downwind conditions and trust is the camaraderie between the Maui paddlers. It really feels like family and close friendships there. I think that's what a lot of people fall in love with when visiting Hawaii. This place is beautiful and the people are special.
During our runs we saw quite a bit of whales. One pod had a group of 4 whales and we all just stopped and stared in awe. The whales were moving pretty quick.


(click thumbnail to launch video)
I got to test out the newest, most advanced racing SUP's in beautiful Hawaii with a great group of people. If this isn't paradise, what is?
Related posts