April 30th, 2010 by davi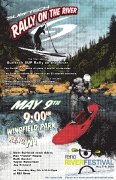 As the fastest growing segment of the paddlesports industry, Stand Up Paddling (SUP) requires the participant to balance on a surfboard-like board while racing downstream over a mix of class II and III rapids. The race begins upstream at Crissy Caughlin Park and continues 3.5 miles to Wingfield Park.

Click here to register. Registration ends May 7th.
Stop by REI Reno Thursday evening from 6:30-8:30 pm and meet Surftech's incomparable Whitewater SUP Team! They'll be discussing everything stand up paddling from how to get started, choosing your equipment, benefits of SUP, tips for whitewater stand up paddling and more.
For more info, please contact Duke Brouwer
831-479-4944 or duke@surftech.com
Surftech on facebook & twitter
Related posts