May 20th, 2010 by davi

Dan Gavere Wins Surftech Rally on the River SUP Race
May 19, 2010 (Reno, NV) – Dan Gavere (Hood River, OR), arrived in Reno Nevada last weekend for the Surftech Rally on the River SUP Race, with two objectives, 1) to catch up with his long time whitewater buddies and charge the river with them, and 2) to take it to them in the "Rally on the River"! He did both… in that order.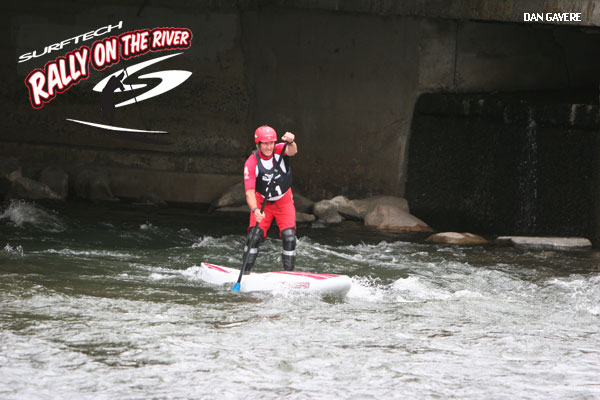 The "Surftech Rally on the River" is the SUP portion of the 7th Annual Reno River Festival, a kayak event featuring the world's most extreme whitewater competition. The Reno River Festival attracts world-class competitors from all parts of the globe for three days of action-packed excitement in downtown Reno. Kayakers competed in the Open Freestyle competition or the Invitation Freestyle, where champions spin, loop and McNasty it out on the freestyle course, as well as the mad-paddling frenzy that is the adrenaline-infused Boater Cross.
The "Surftech Rally on the River" was the final event of the weekend. The 3.5 mile race course consisted of a series of fin grinding shallow rapids, rushing currents and tight turns through the first three quarters of the race. As the paddlers entered into Reno's notorious whitewater park, in the heart of downtown, there awaited the final leg of the race featuring three steep rapids with big drops and turbulent whitewater. At this point the racers were exhausted from navigating the treacherous river run. If they fell off in the rapids, they'd have no hope of contending for the Rally on the River title. "We did four or five practice runs on the course Friday and Saturday to see what we were in for." said whitewater veteran Taylor Robertson (Chico, CA) "It was pretty clear to everyone that Dan had the advantage by choosing to paddle a flatwater race board. The board was fast but really unstable. If he fell off, he'd be in trouble." Said Taylor.
Dan used his decades of whitewater skills and a great deal of athleticism to stay upright through the rapids and streak through the finish line with a time of 20:24:00. Less than a minute behind Gavere, in second place, was first time whitewater paddler and Surftech Product Developer, Mike Bennett with a time of 21:19:00. "I paddled the 11′6″ Softop in the race. It's the most stable board we've got and it just glided through the rapids no problem." said Bennett "I had Dan in my sights the entire time but just couldn't catch him." Reno's favorite son and Surftech team rider Jay Kincaid rounded out the podium in third place with a time of 21:23:00. "I fell apart in the water park at the end. I was having a good race up until the last 200 yards." admits Kincaid. "This was a a great start to my race season and I'll be looking forward to doing the race again next year."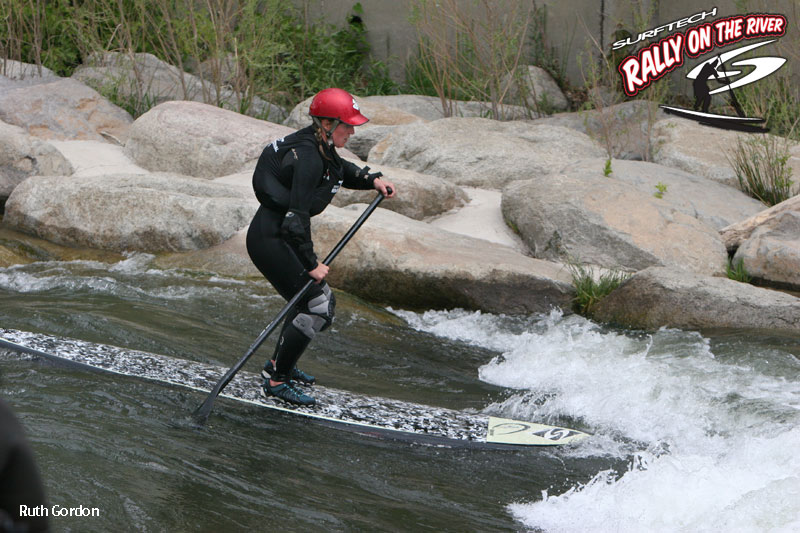 Reno River Festival event organizer, Ruth Gordon had this to say about the race. "Surftech broke the mold of SUPing by hosting the first ever down river SUP race – the Surftech Rally on the River. Surftech made a landmark decision when they decided to venture in-land to sponsor an event in Reno, NV. A mixed group of die hard SUPers and kayakers braved the mighty Truckee River to mark this historic event and as an avid kayaker, and new SUPer I was honored to be a part of such a pack." explained Ruth. "The buzz at the start line was exciting as we all chatted about being part of history in the making. I learned a lot from my first event (stay on the board and definitely use a fin) and I had a blast doing so!"
"The Reno River Festival has always been one of the year's best events." explained Gavere, "The addition of the Surftech Rally on the River just makes it better and more exciting."
Surftech Rally on the River Final Results:
1. Dan Gavere 20:24
2. Mike Bennett 21:19
3. Jay Kincaid 21:23
4. Taylor Robertson 21:44
5. Ken "Hobie" Hoeve 22:43
6. Marcus Tingli 23:51
7. Mike Tessier 25:09
8. Ruth Gordon 26:10
9. Will Hoida 26:31
10. Tim Boyer 26:42
11. Donyelle Dewey 27:25
12. Ernie Brassard 28:29
13. Allison Bruner 31:19
For event highlights and photos click over to SurftechSUP.com

For more info contact:
Duke Brouwer
Surftech Marketing
831-479-4944
duke@surftech.com
Surftech on facebook & twitter
Related posts