March 18th, 2010 by davi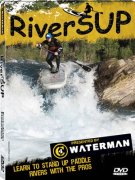 RiverSUP is a revolutionary new DVD. This unique production is the first DVD to focus exclusively on the challenging and invigorating sport of stand-up paddling (SUP) on whitewater rivers.



(click thumbnail to launch video)
Stand-up paddle surfing has burgeoned in popularity around the world and now a dedicated crew of Rocky Mountain river-rats have taken the sport from its roots at the ocean into an entirely new realm. River stand-up pioneer Charlie MacArthur and Paul Tefft from EnviroAction Productions have teamed up with C4 Waterman to produce this cutting-edge DVD.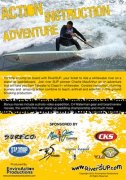 RiverSUP is multi-faceted – part instructional and part action/adventure entertainment. Concise clips and accurate explanations take the aspiring SUP river paddler from the ins and outs of mellow river paddling to the advanced techniques of paddling class II & III rapids. Viewers will learn how to read rapids, peel in and out of the current, make dynamic eddy turns, perform river specific paddle techniques, and surf endless river waves. RiverSUP also includes five bonus movies including a segment on the world's first river stand up paddling championship and a scenic and exciting photo video adventure.
It's time to join the world's most experienced river stand-up paddlers in this one-of-a-kind action and instruction adventure.
Related posts